Choco-Flan Cake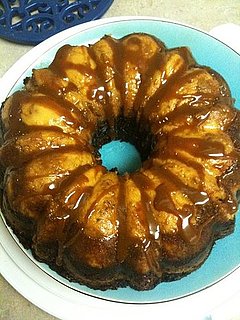 Half chocolate cake, half flan, all covered in caramel. Does it get any better? This fun little cake is easy and fun to make, and definately a way to change up the same cake and frosting routine. You literally pour in caramel, choclate cake batter, and flan batter all at the same time, and the flan sinks to the bottom as the cake rises to the top, when you fli it upside down, you get caramel poured over flan on top of chocolate cake... yummmm.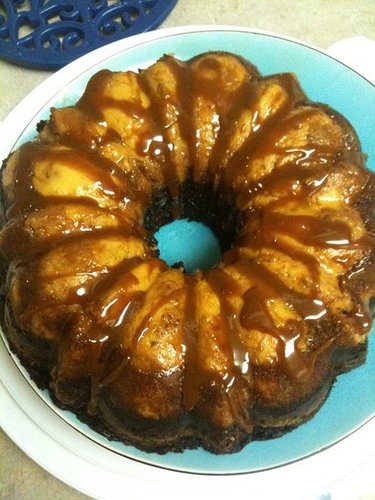 Mix of online and original
Choco-Flan Cake
Ingredients
Ingredients :
12-cup capacity Bundt pan
Softened butter, to coat pan
1/2 cup cajeta quemada or caramel sauce
For the cake:
Boxed Devils food (or favorite cake mix)
oil and eggs for cake mix
For the flan:
1 (12-ounce) can evaporated milk
1 (14-ounce) can sweetened condensed milk
4 ounces cream cheese, room temperature
3 eggs
1 tablespoon vanilla extract
For garnish:
1/2 cup cajeta if need be
Directions
Directions
Put an oven rack in the middle of the oven and preheat to 350 degrees F.
Coat a Bundt pan with a little butter, then coat the bottom with 1/4 cup cajeta and put it in a large roasting pan. (The roasting pan will serve as a water bath during baking.)
For the cake: Mix cake mix per directions on box with oil water and eggs .
For the flan: In a blender, or by hand mixer, combine the evaporated milk, condensed milk, cream cheese, eggs and vanilla. Blend on high for 30 seconds.
Scoop the cake batter into the prepared Bundt pan and spreading evenly. Pour the flan mixture over the cake batter. Cover with foil and add about 1-inch of hot water to the roasting pan.
Carefully slide the pan into the oven, and bake 1 hour, until the surface of the cake is firm to the touch, or an inserted toothpick comes out clean.
**TIP, my cake was not set after an hour, so i removed cake and water bath from oven and take bundt pan out of the water bath and place directly on the oven rack to keep cooking. Check every ten min or so until cake is firm to touch. When cake is done, remove and cool completely to room temperature, about 1 hour. Invert a large, rimmed serving platter over the Bundt pan, grasp tightly together, giggle a little and flip over. Remove the pan and scrape any remaining cajeta from the pan onto the cake, refrigerate until cold then serve!
Information
Category

Desserts

Cuisine

Mexican
Saved to