Chocolate-Espresso Balsamic Granola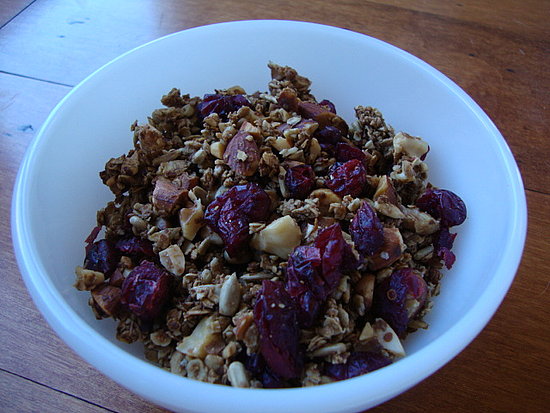 Oh, my. This is good. This is similar to my original granola recipe, but tweaked a little. Flavored oils or balsamic vinegars are ideal for granola. I don't care for overly sweet granola, so this Chocolate-Espresso balsamic vinegar adds just the right amount of sweetness. Great for cereal, on top of yogurt, or with ice cream. A new olive oil/vinegar shop recently opened up downtown and a friend and I spent at least 45 minutes tasting all their different varieties. I found what I was looking for. A little pricey at $15, it will be slowly savored.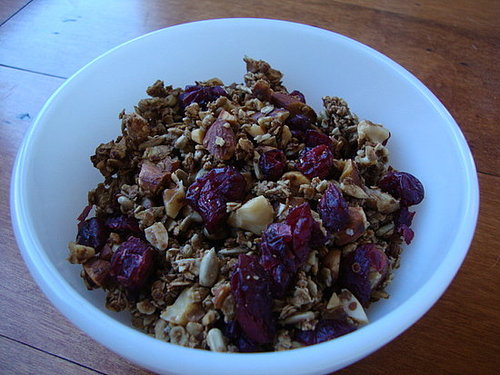 Original recipe
Chocolate-Espresso Balsamic Granola
Ingredients
2 C oats
1 C coconut, shredded
1/2 C wheat germ
1/2 C each: walnuts, almonds, and sunflower seeds
1 tsp salt
1/4 C flavored balsamic vinegar
1/8 C brown rice syrup
1/4 C almond milk
1/8 C olive oil
6 to 8 oz dried fruit, such as craisins or cherries
Directions
Preheat oven to 300. Line a large baking sheet with foil, and mist with cooking spray. In a large bowl, combine the oats, coconut, wheat germ, nuts, and salt. In a small bowl, whisk together the balsamic vinegar, oil, brown rice syrup, and almond milk.  Add the wet ingredients to the dry ones and mix well. Spread the granola mixture on the prepared baking sheet; spread it out evenly.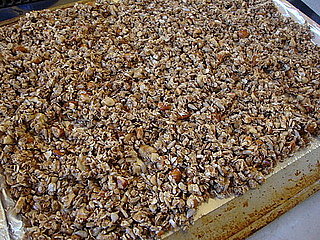 Bake for 35-40 minutes, or until it begins to brown. Transfer to a large bowl and stir in the dried fruit. Once it has cooled, store in an airtight container. Enjoy!
Information
Category

Snacks
Saved to