Chocolate Peanut Butter Balls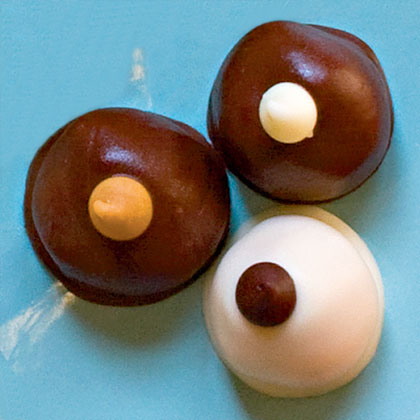 family
Chocolate Peanut Butter Balls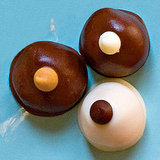 Ingredients
2 cups smooth peanut butter
1 cup butter or margarine, softened
5 cups confectioners' sugar
2 (12-ounce) packages of chocolate chips (we used white and semisweet)
4 to 5 tablespoons of vegetable shortening
Chocolate or peanut butter chips for decorating
Directions
In a medium-size bowl, combine the peanut butter and butter and stir them with a wooden spoon, until they are evenly blended. Add the confectioners' sugar and stir until the mixture has the consistency of sticky play dough.
Follow the chocolate chips package directions to melt the chocolate chips with the shortening in a microwave. You can also melt them in a glass bowl placed on top of a 2-quart saucepan filled with boiling water, stirring frequently. If you're using different types of chocolate, melt them in separate batches. White chocolate doesn't contain cocoa butter, so it requires extra shortening. We used 2 tablespoons for semisweet chips, 3 tablespoons for white chocolate.
While the chocolate melts, roll the peanut butter mixture into 1-inch balls and set them on a baking sheet lined with wax paper. (Reader tip: If the dough is too sticky, add more confectioners' sugar and/or wet your hands with warm water to prevent sticking.) Put the baking sheet in the freezer until the peanut butter balls are solid enough to pick up with a toothpick, about 5 to 10 minutes.
Insert a toothpick into each peanut butter ball, then dip it into the melted chocolate. Set the chocolate-coated balls on a baking sheet lined with waxed paper. Remove the toothpicks. Immediately place a chocolate or peanut butter chip over each toothpick hole. Cool the peanut butter balls in the refrigerator until the chocolate has hardened, about 5 minutes. Makes 100 (1-inch) peanut butter balls.
Reader Tip: Use leftover melted chocolate to coat pretzels, or pour it into candy molds and add chopped nuts or dried fruit.
Saved to