Cinnamon Chocolate Chip Scones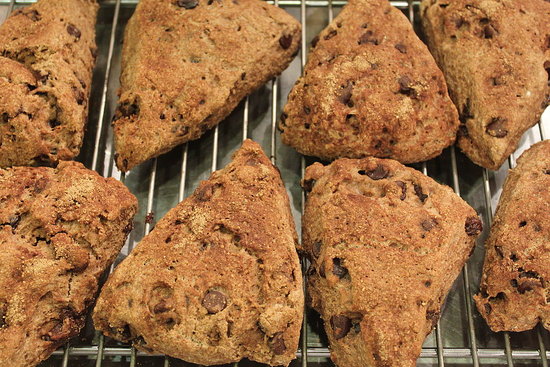 I used this recipe during a bread class at my cooking school, the Natural Gourmet Institute. It's bursting with sweet chocolate flavor and a slight kick of cinnamon spice- the perfect soft, sweet snack, breakfast or dessert. to enjoy with a cup of coffee. Enjoy it!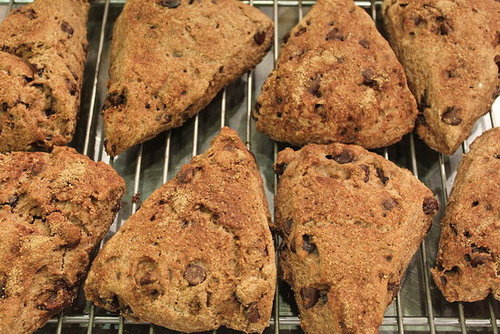 Ingredients
1 cup all-purpose flour
1 cup whole-wheat pastry flour
1/3 cup maple crystals or brown sugar
2 teaspoons baking powder
1/2 teaspoon baking soda
1/2 teaspoon sea salt
3 tablespoons chilled unsalted butter, cut into chunks
1 cup chocolate chips
2 tablespoons cinnamon
3/4 cup + 2 tablespoons buttermilk
1 tablespoon maple syrup
1/4 cup milk
2 tablespoons maple crystals
1 tablespoon cinnamon
Directions
1. Preheat oven to 375*F. Line a baking tray with parchment paper or a Silpat liner.
2. In a medium bowl, whisk together flour, maple crystals/sugar, baking powder, baking soda, cinnamon and sea salt.
3. Using your fingertips, cut butter into flour mixture. Continue mixing until large chunks are gone and mixture resembles coarse crumbs. Add chocolate chips.
4. Gradually stir in in buttermilk and maple syrup a few tablespoons at a time, being careful not to overmix. Dough should be sticky but hold together; if it appears too dry, add a tablespoon of water.
5. On a lightly floured surface, form a disc out of the dough and use your fingers to press it into a 1 inch thickness. Cut into eight triangles and place on baking sheet.
6. In a small bowl, combine remaining maple crystals and cinnamon. Brush tops of scones with milk, then sprinkle with cinnamon sugar.
7. Bake for 15-20 minutes, or until the tops have turned golden brown and are firm to the touch (a toothpick inserted in center should come out clean. Cool on wire racks.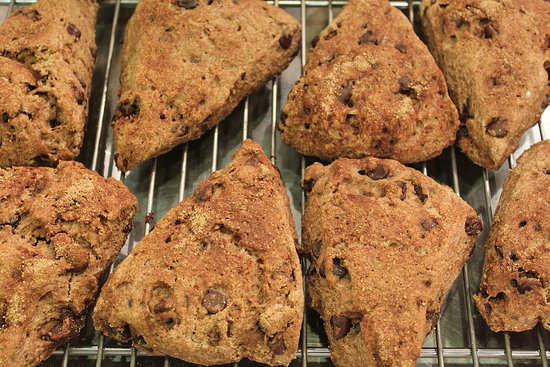 Information
Category

Breads, Scones
Saved to