Cinnamon Rice Pudding with Cherry LARABAR Sauce
This soft and sticky rice pudding is the perfect way to begin a relaxing Sunday morning. Have the leftovers double as a warm breakfast on the go, just add a handful of granola and you're ready to rock!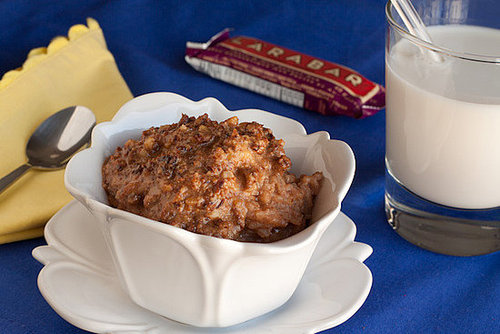 Ingredients
Pudding
* 1 1/4 cup water
* 1/4 cup uncooked jasmine rice
* 1/2 cinnamon stick
* pinch Himalayan rock salt
* 1/2 cup non-dairy milk – I used almond milk
* 1 tbsp raw honey – to make vegan use maple syrup
* 1/4 tsp ground cinnamon
* 1/4 tsp pure vanilla extract
* 1/8 tsp almond extract
Sauce
* 1 cherry pie LARABAR soaked in 1/4 cup water
* 1/4 tsp pure vanilla extract
Directions
To prepare pudding, combine first 4 ingredients in a large saucepan; bring to a boil. Reduce heat, and simmer, uncovered for 20 minutes or until rice is tender. Drain remaining liquid and return rice and cinnamon stick to the stove top.
Stir in almond milk, honey, cinnamon, vanilla, and almond extract. Bring to a simmer over medium heat, stirring constantly. Reduce heat to medium-low; cook 20 minutes or until thick, stirring frequently. Remove from heat and discard cinnamon stick.
To prepare sauce, combine soaked LARABAR and vanilla in a blender and process until smooth.
Pour sauce over pudding and serve.
Makes 2 servings.
Nutrition stats [1/2 cup]: calories 350; fat 17g; carbohydrates 40g; dietary fiber 5g; sugars 20g; protein 5g
Information
Category

Other, Breakfast/Brunch
Saved to