Closet Conundrum!
I'm not looking for a particular piece of furniture or anything, so I'm not sure if this is the correct place to post this, but oh well. Worth a shot!
We have a teeny tiny 83 year old bathroom that serves most of the house (we do have another bathroom, but it's in the basement). We are about to renovate it, and are hiring professionals to do much of the work, but I was hoping to tackle the closet door ourselves to save money. When we moved into the house, there was a ginormous mirror door covering the closet. It covered that entire wall up to the tub.  I didn't really like seeing myself while using my facilities, so we removed it, thinking we had the original door in the basement. In fact, the door belonged to something else, but I really hated the mirror, so we just put a shower curtain in the closet as a temporary fix. Here are two pictures of the closet now (please ignore the plaster patches/holes and other issues):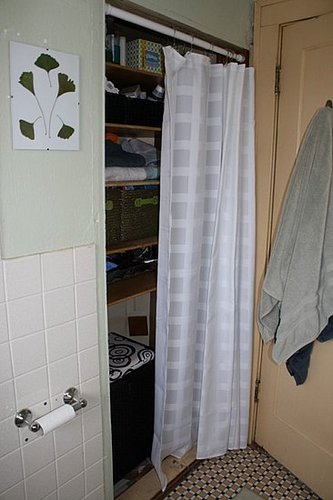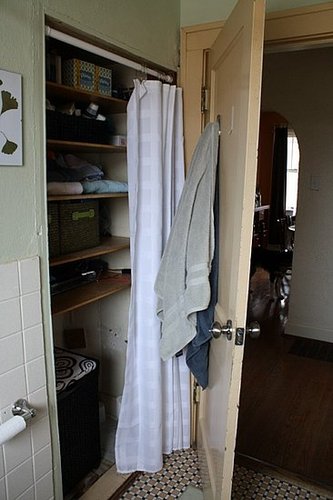 Now to the dilemma. First of all, the door is a very weird size. No matter how much we search, we can't find any pre-made doors that fit.  We had one estimate done a while ago, and they wanted to charge us $1,000 to put a door here. I don't think so. If we find solid wood doors or make them ourselves (how?), we can cut them to size, but that leads us to problem 2, which is that the door to the bathroom opens right over the closet, as you can see in the second picture, so we don't know what kind of door to put there.  I don't think we can do a bifold because it would hit the other door.  We could do sliding doors, but then we could only access one side of the closet at a time. Sooo, that finally leads us to my question, what suggestions do you guys have? What type of door should we use? In a dream world, I'd like doors with glass panels in the top half of them since that closet is valuable real estate in a tiny bathroom, but that's not a must. Where can I shop for different closet doors? I need lots of help!  Yet another option is to fix up the closet and trim it out, but use no doors at all, I'm just not sure I can keep it organized enough for that!
Saved to