'Cloud Atlas' evaporates as 'Argo' wins it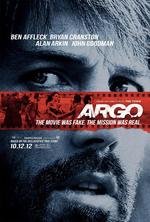 "Argo," in its third week in theaters beats the newcomers at the box office, in what may surprise some. Furthermore, this movie is what award season is all about.
 
It has a great cast, performance, soundtrack and story. It is a great movie, so after three weeks, it shakes out two weeks at number two and then leaps to No. 1. That is something that doesn't happen all the time. "Cloud Atlas" left audiences in the clouds and given the theater count, it really wasn't expected to take over the box office.
 
The widest new release as the Halloween-themed "Fun Size." That tanked, too. The box office fell into a weak state once more but never fear "Skyfall" opens soon, as does "Lincoln" and the next installment of "Twilight." With only a $12 million haul at No. 1, that is shaky, and for it to be a movie that has been out for three weeks, the others were just window dressing.
 
Weekend
1. "Argo" - $12.3 million
2. "Hotel Transylvania" - $9.5 million
3. "Cloud Atlas" - $9.4 million
4. "PA4" - $8.6 million
5. "Taken 2" and "Silent Hill: Revelation 3D" - $8 million
 
Yes, that is "Hotel Transylvania" in the No. 2 spot as it is the film of choice for Halloween. "Silent Hill 2" was another disappointment while "Fun Size" fizzled and "Chasing Mavericks" fell into the ocean. And note, these are estimates and that tie at No. 5 will be broken when the actuals are released Monday.
 
Award notes This it the time of year when many films will open and nobody pays attention to simply because they will get that slow release schedule. But, they are doing that for award season exposure. Plus, certain performances in smaller films will now get touted, too, so look for that. Noted in past stories was "The Session" with Helen Hunt. It stays strong in slow release. And an Oscar winner gets a little more of a wide release in Flight" on Nov. 3. When Denzel Washington is involved, buzz is created, even if the film falls flat. One name to remember as award season rolls is "Silver Linings Playbook." The others have been mentioned here over the past few weeks, so it is time to throw that name out right now. Plus, "Life of Pi." One more, "Rust and Bone," as it won the London Film Festival.
 
There is still a great deal of buzz still for a Best Picture nod for "Skyfall," and it did fantastic overseas box office with $77 million. It opens here Nov. 9.
Saved to