Coffee Shortbread Pecan Chocolate Cookies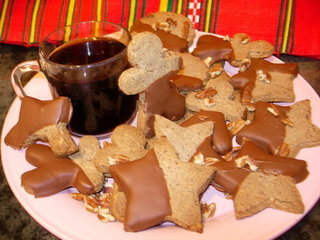 Here are the ingredients:
1/2 cup finely ground pecans1 1/4 cups sifted all-purpose flour3/4 cup confectioner's sugar2 tablespoons finely ground ArabicaDabra Guatemala coffee3/4 cup butter, softened
1. In a large bowl combine pecans, flour, confectioner's sugar and coffee. Cut in butter and mix together until well blended. Shape dough into a ball, wrap in foil or plastic and refrigerate for at least half an hour.
2. On lightly floured surface roll chilled dough to about 1/4 inch thickness. Cut with 2 inch cookie cutter. Place cookies 1 inch apart on ungreased cookie sheet.
3. Bake 10- 12 minutes in a preheated 350 degrees F oven or until edges are just firm. Remove from sheet. Cool on wire rack.
4. Melt milk chocolate in container and dip cooled cookies. Put dipped cookies in refrigerator to harden chocolate.
5. Serve with a hot, freshly roasted cup of ArabicaDabra Guatemala coffee and…enjoy.
Please Read More
http://www.tastymagic.com/coffee-shortbread-pecan-chocolate-cookies/
Saved to