Cranberry Ice-Cream Pie
Allrecipes.com
Cranberry Ice-Cream Pie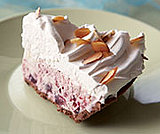 Ingredients
9-inch chocolate crumb pie shell
2 cups vanilla ice cream, softened
1 cup canned whole-berry cranberry sauce
1 tablespoon orange juice
2 cups whipped topping
2 tablespoons sliced almonds, toasted
Directions
Chill the pie shell in the freezer while you prepare the filling.
2. Place the softened ice cream, cranberry sauce, and orange juice in a large bowl and stir with a wooden spoon until the ingredients are well blended.
3. Spoon the filling into the chilled shell and freeze the pie until firm (4 hours or more). Next, spread the whipped topping over the ice cream layer and sprinkle on the almonds. Cover the pie and return it to the freezer. Allow the pie to stand at room temperature for 20 minutes before slicing it. Serves 8.
Saved to