Cranberry Sour Cream Muffins
Yes, the sour cream part threw me off, also. But, these are moist and delicious!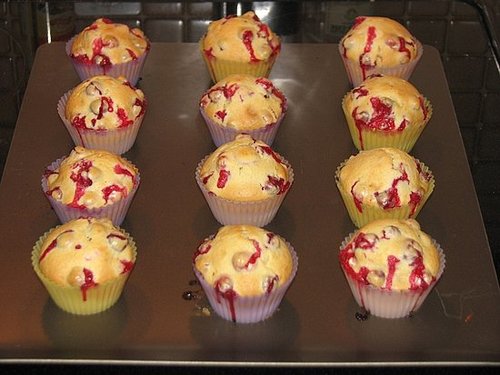 Base recipe, changed to meet my tastes.
Cranberry Sour Cream Muffins
Ingredients
2 cups all-purpose flour
1/4 cup sugar
3/4 teaspoon baking soda
1/4 teaspoon salt
1 large egg, slightly beaten
3/4 cup sour cream
1/2 cup milk
1/3 cup vegetable oil
1 1/2 cups raw cranberries, whole or chopped
1/2 cup sugar
Directions
1) Preheat oven to 375 degrees.
2) Sift together flour, 1/4 cup sugar, baking soda, and salt into bowl.
3) Combine egg, sour cream, milk, and oil in small bowl; blend well.
4) Add all at once to dry ingredients, and stir to moisten.
5) Combine cranberries and 1/2 cup sugar; stir into batter.
6) Spoon batter equally into 12 muffin cups.
7) Bake at 375 degrees for 20 minutes, or until tops are golden brown.
Information
Category

Breads, Muffins
Saved to