Cranberry Tapioca Pearls (Fruity Sabudana Khichadi)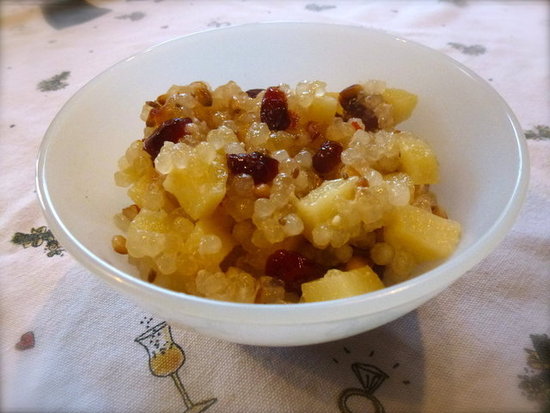 Ekadashi is spiritual day that is observed in my family by a partial fast of abstaining from grains and pulses. For 24 hours we only eat fruit, nuts, milk and root based vegetables. However, I believe this dish is so delicious that it shouldn't be restricted to just special days.
 
A famous Gujarati dish made when fasting is Sabudana Khichadi which translates to spicy tapioca. Every housewife in India probably has her own special way of making this dish. My mum's secret is to soak the rinsed tapioca pearls in a plain yogurt lassi overnight. This adds favour and softens the tapioca pearls. Tapioca pearls are derived from the starch in cassava roots. Don't worry if you can't find tapioca pearls as you can substitute them with sago pearls in this recipe. Sago pearls are derived from the pith found inside the trunks of the Sago Palm.
 
While the traditional recipe has green chillies and roasted peanuts, I decided to created a fruity version by adding sweeten cranberries and toasted pine nuts instead. Using a microwave and a little advanced prep work makes this a supper easy dish to create!
 
Check out the recipe here.
Saved to