Creamed Corn
Growing up my mom would make home made creamed corn on holidays or special occasions. She would cut the tips of the fresh corn then scrape the remainder into a bowl. Just to get a bowl full for a meal, she would have to use about 30 ears of corn. It was a LOT of work.
A few years ago, wanting to eat the corn but not wanting to do all the work, I came up with an easier way. I served it at Thanksgiving and both of my sisters were impressed. It was pretty close to the real thing.
I apologize in advance for these bad directions.
1 large bag or 2 small bags of frozen corn - thawed (I have never seen a name brand in a large bag, so I buy the store brand)
1 small carton of heavy cream - I think it's a half pint
Half & Half - I buy the quart size just so I have enough
1/2 stick real butter
salt to taste
I have always eyed the ingredients so I will do my best to explain.
Put thawed corn into a food processor and blend until chopped. It's okay if some of the kernels are still whole. I have a small processor so I do this in batches to make sure it gets chopped up.
My mom always cooked her recipe in a cast iron skillet, so that is what I use too. After the corn is chopped, I put it into the skillet. I pour the small carton of heavy cream in, the butter, then I pour the half & half until it almost touches the top of the skillet and salt. Bring to a boil, then cook uncovered on low until the liquid is cooked down. Stir occasionally. This takes about an hour. Taste it and add more salt if needed.
I don't have any pictures but I took a picture of the skillet I use so you can get an idea of how much this makes and how much half and half to use.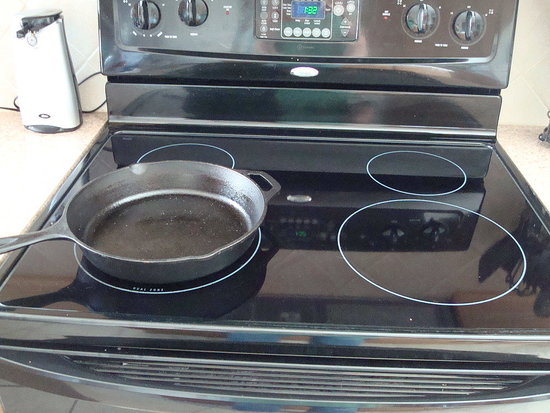 It didn't look that dirty in person! :rotfl:
Saved to