Creamy Macaroni and Cashew Cheese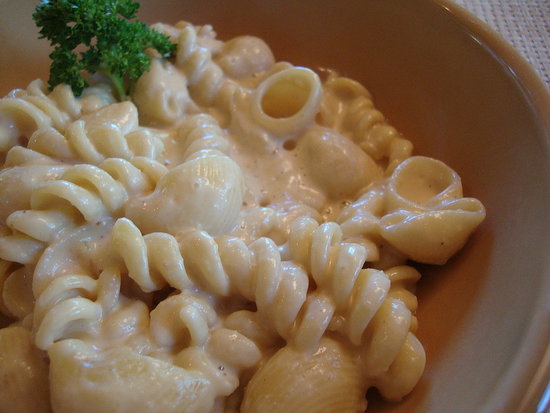 You're probably thinking. . .how many non-dairy mac and cheese recipes can there possibly be? Turns out, quite a few, but as most of us know, they're not all that tasty. This one, however, is the first cashew cheese sauce I've made (but close to the Hurry Up Alfredo) and I really, really, love it. I ate way too much of it, too.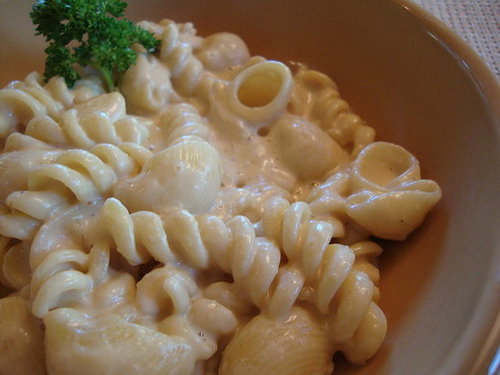 The Vegan Table
Creamy Macaroni and Cashew Cheese
Ingredients
1-1/4 C raw cashews
1/2 C nutritional yeast
2 tsp onion powder
1 to 2 tsp salt, to taste
1 tsp garlic powder
1/8 tsp white pepper
3-1/2 C nondairy milk
3 Tbs cornstarch
1/2 C canola oil
1/4 C light (yellow or white) miso
2 Tbs lemon juice
12-16oz macaroni, cooked (I used about 16 ounces of both small shells and rotini)
Directions
Place cashews in a large-sized bowl of the food processor and finely grind–just don't let the cashews turn to a paste. Add nutritional yeast, onion powder, salt, garlic powder, and white pepper. Pulse three more times to blend in spices.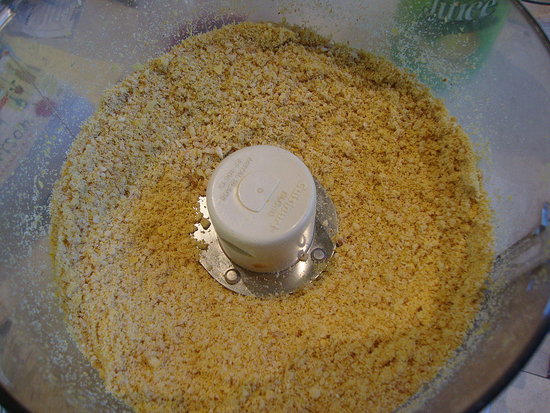 In a heavy saucepan, combine milk, cornstarch and oil. Bring to a simmer over high heat. Decrease heat to low-medium, cover and simmer, stirring occasionally for 10 minutes, or until cornstarch dissolves.
With the food processor running, gradually add milk/oil mixture to cashew/nutritional yeast mixture. Blend for 2 minutes or until smooth and creamy. Next blend in miso and lemon juice.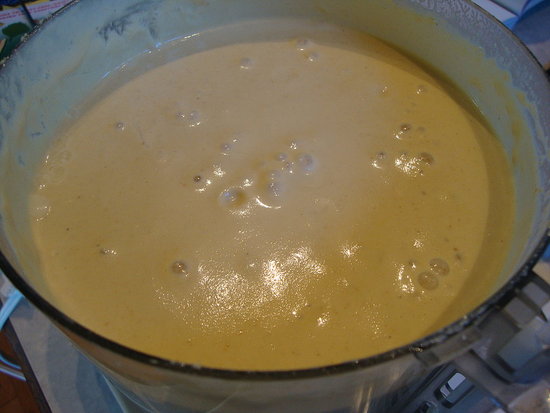 Combine cashew cheese with macaroni noodles and serve. You may also bake it: Preheat oven to 325 and place macaroni mixture in a 8 or 9″ square baking dish (I recommend a 9″x13″ one). Cover and bake 20 minutes. Uncover and sprinkle with 1/2 C herbed bread crumbs. Continue baking, uncovered, for 15-25 minutes until topping is golden brown. (I'm going to do this with the leftovers)! Enjoy!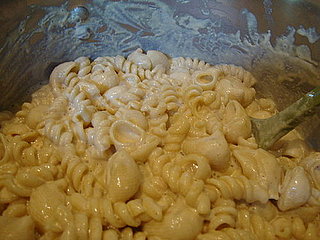 UPDATE:
I baked the leftovers and YUM! It was good, but I think I still prefer it unbaked.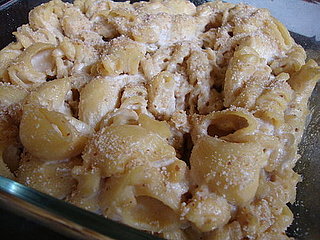 Information
Category

Pasta, Main Dishes
Saved to