Creamy Veggie Bake (Made possible by Green Buffalo Food Co.)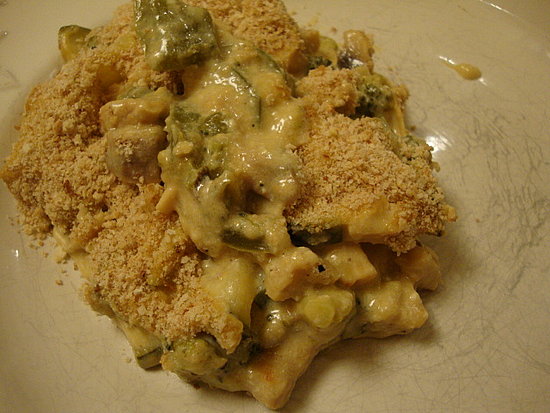 When one door closes, another one opens. In this case, when one CSA ends, another comes! We had our last week of our CSA this last Monday, and luckily, I met another food delivery company in my area, at an event for our Writers Association. Green Buffalo Food Company delivers organic, locally-grown/raised food right to your door. I was very enticed by the fact that they don't require a contract–just weekly or bi-weekly delivery and we can tell them what we don't want in our delivery. I have 3 butternut squashes on my counter, so I can wait on getting more. Oh, and fruit! It includes fruit!
We received our first delivery today and let me tell you . . .I get excited over home-delivered organic vegetables! Christmas came early.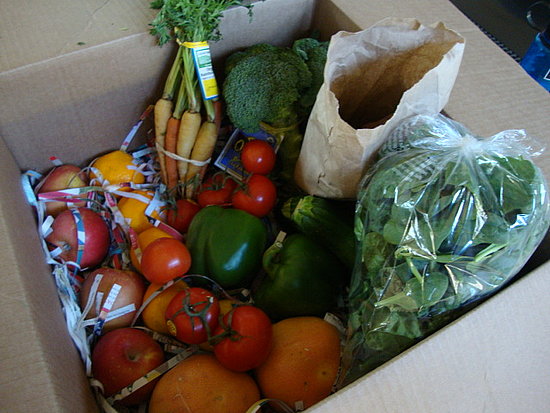 Isn't it a gorgeous box of produce?! (potatoes are in the bag). Organic is of course wonderful, but it  isn't always the prettiest—or the very large, so I was very impressed with what we got.  And everything is packed so carefully and sweetly (which is fitting because Ali and Ryan, who own GBF, are incredibly lovely people). (sorry, that's a lot of adverbs). I was giddy with vegan excitement as I perused through the box, wondering what to make for dinner. I had to refrain from using everything—reminding myself that it needed to last the week. I opted for a vegetable bake that didn't use up everything and certainly didn't disappoint.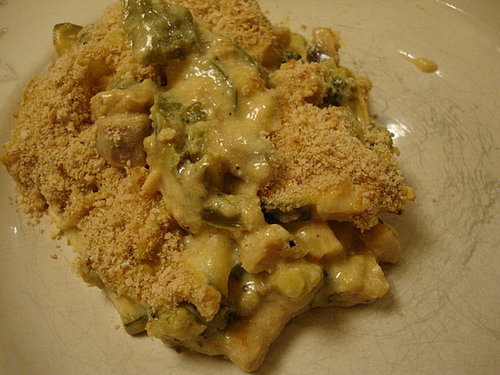 Original Recipe
Creamy Veggie Bake (Made possible by Green Buffalo Food Co.)
Ingredients
1 Tbs olive oil
2 tsp garlic
1 large zucchini, sliced, then quartered
2 C mushrooms, quartered
1/2 large onion, chopped
1 green bell pepper, chopped
1-8oz pkg. tempeh, cubed (small)
2 small broccoli heads, florets only
1/2 C almond milk
1 pkg Silken tofu
1/2 C nutritional yeast
1 tsp garlic salt
1/2 tsp black pepper
1 C vegan cheddar (I used a combo of cheddar and mozzarella)
1/2 C bread crumbs
Directions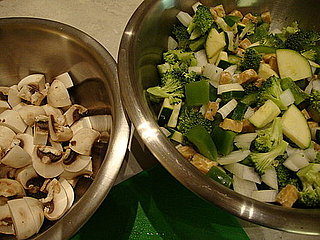 Preheat oven to 375. In a large skillet heat olive oil and garlic. Add the zucchini, broccoli, bell pepper, onion, and tempeh. Saute on medium heat until they just barely begin to soften. Add mushroom and saute another 5 minutes. Meanwhile, combine the tofu, nutritional yeast, almond milk, garlic salt, and pepper in a food processor. You can also just whisk it in a bowl; stir in the cheese.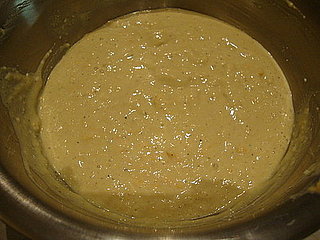 Lightly grease a 9×13″ baking dish and layer half of the sauce on bottom. Add the vegetable mixture, then top with the rest of the sauce. Stir around to combine everything.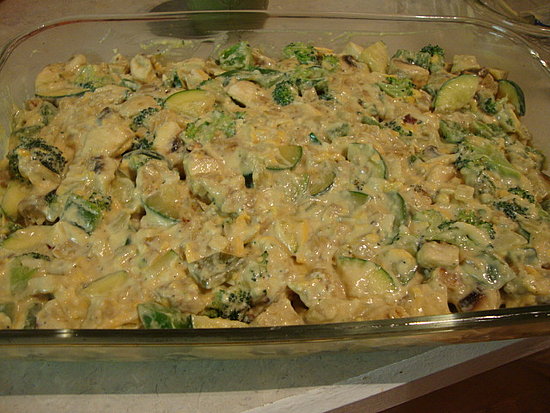 Cover and bake 40 minutes. Sprinkle the breadcrumbs on top and bake uncovered for another 10 minutes.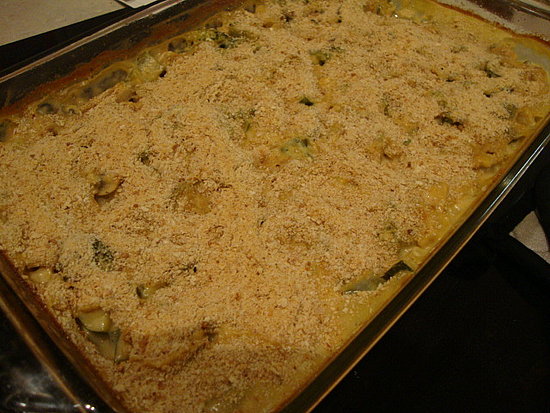 Let sit for about 5-8 minutes before serving. Enjoy!
Information
Category

Other, Main Dishes
Saved to