Cuban Black Bean and Potato Soup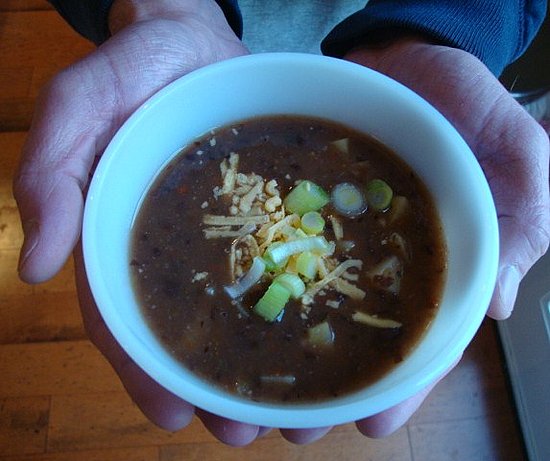 This comes from the latest issue of Vegetarian Times and was pretty easy to make. I altered a couple of things and it made a comforting, hearty meal.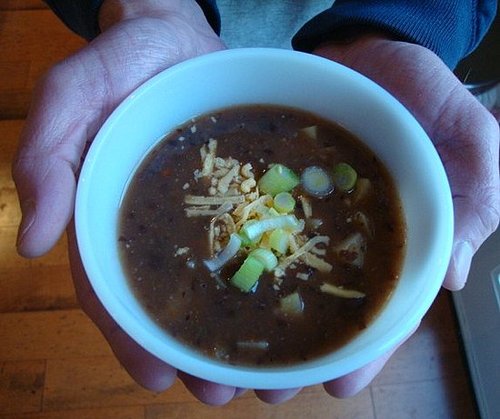 Adapted from Vegetarian Times
Cuban Black Bean and Potato Soup
Ingredients
1 medium onion, diced (1-1/2 C)
1 small red bell pepper, diced (1 C)
1 small green bell pepper, diced (1 C)
6 cloves garlic, minced
6 C cooked black beans, (I used canned–drained) divided
3 medium potatoes, diced (2-1/2 C)
2 Tbs white wine vinegar
1 Tbs cumin
1 Tbs fresh oregano leaves (I used dried)
1 bay leaf (I left this out)
1/2 tsp salt
Green onions, sliced for a garnish
Optional: vegan cheddar, Tofutti sour cream, salt and pepper
Directions
In a large soup pot, saute the bell peppers, onions and garlic in a bit of water or vegetable broth for 2-3 minutes.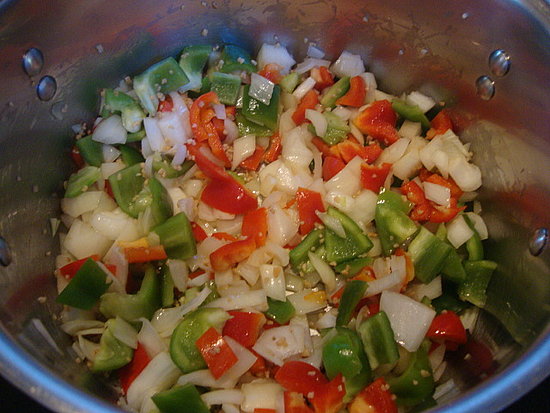 Transfer to a blender (or food processor) and blend until smooth.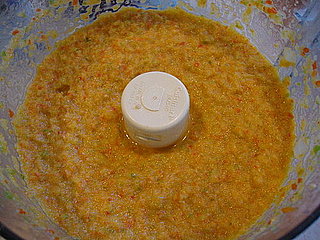 Add 3 of the 6 cups of black beans, as well as 6-7 cups of water. I think a low-sodium vegetable broth would be great, too.  Puree until the mixture resembles a thick soup. I didn't have enough room in my food processor for all of this, so I pureed what I could, transferred half the mixture back to the soup pot, then pureed the rest with the rest of the water. Transfer to the soup pot and add the rest of the beans, potatoes, vinegar and seasonings. Bring to a simmer; reduce to medium-low heat, cover, and simmer for 20 minutes. Garnish each serving with green onions and/or other optional ingredients. Enjoy!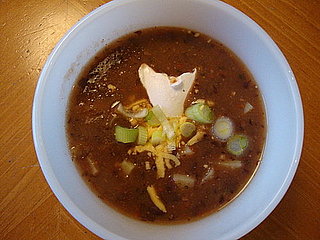 Information
Category

Soups/Stews, Bean
Saved to