Dairy-Free Banana Rice Pudding
This rice pudding is dairy-free, but the bananas and rice milk make it so creamy and rich-tasting, no one will know the difference.
Makes 8 servings, generous 1/2 cup each
ACTIVE TIME: 30 minutes
TOTAL TIME: 3 1/2 hours (includes 2 hours chilling time)
EASE OF PREPARATION: Easy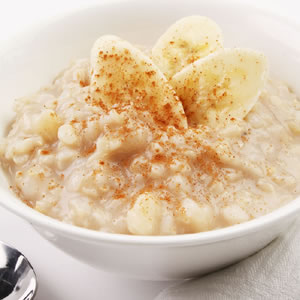 allrecipes.com
Dairy-Free Banana Rice Pudding
Ingredients
1 cup brown basmati rice
2 cups water
1/2 teaspoon salt
3 cups plus 1 tablespoon gluten-free vanilla rice milk, divided (see Tip)
1/3 cup light brown sugar
1/2 teaspoon ground cinnamon, plus more for garnish
1 tablespoon cornstarch
4 ripe bananas, divided
1 teaspoon vanilla extract
Directions
1. Combine rice, water and salt in a medium saucepan and bring to a boil. Reduce heat to low, cover and cook until the liquid is fully absorbed, 45 to 50 minutes.
2. Stir in 3 cups rice milk, brown sugar and 1/2 teaspoon cinnamon and bring to a lively simmer. Cook, stirring occasionally, for 10 minutes. Stir cornstarch and the remaining 1 tablespoon rice milk in a small bowl until smooth; add to the pudding. Continue cooking, stirring often, until the mixture is the consistency of porridge, about 10 minutes. Remove from the heat.
3. Mash 2 bananas in a small bowl. Stir the mashed bananas and vanilla into the pudding. Transfer to a large bowl, press plastic wrap directly onto the surface of the pudding and refrigerate until cold, at least 2 hours.
4. Just before serving, slice the remaining 2 bananas. Top each serving with a few slices of banana and sprinkle with cinnamon, if desired.
NUTRITION INFORMATION: Per serving: 208 calories; 2 g fat (0 g sat, 0 g mono); 0 mg cholesterol; 49 g carbohydrate; 3 g protein; 3 g fiber; 182 mg sodium; 213 mg potassium.
3 Carbohydrate Servings
Exchanges: 2 starch, 1 fruit
TIP: Tip: Some brands of rice milk may contain gluten. Gluten-free brands include Pacific Natural Foods or 365 Organic.
MAKE AHEAD TIP: Prepare through Step 3, cover and refrigerate for up to 1 day. Finish with Step 4 just before serving.
Information
Category

Main Dishes
Saved to