Dark Shadows Movie Review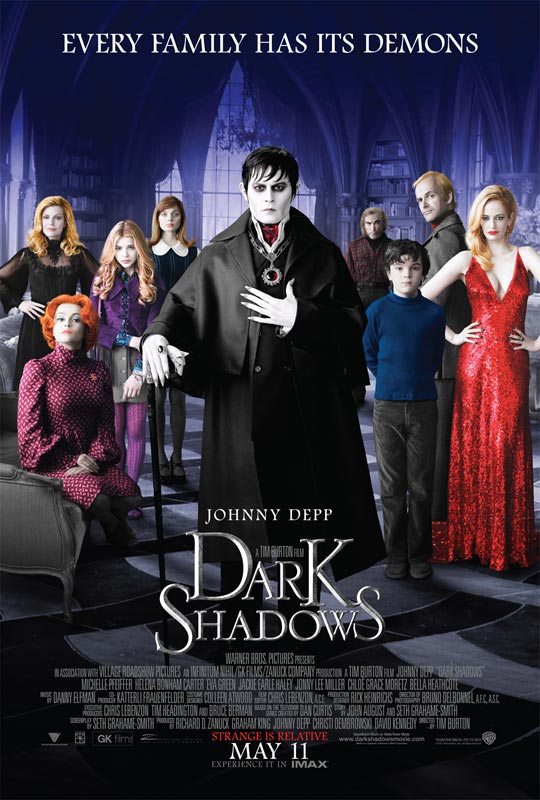 E-Value: 8.0 / 10
Acting : 8.5/10 (Johnny Depp), 8.0/10 (Eva Green), 7.5/10(Chloë Grace Moretz ), 7.0 /10(for other cast)
Plot: 7.0 /10
Set in 1760, Joshua and Naomi Collins with their son Barnabas Collins sail from Liverpool to Maine, North America to start off their fishing business. Years later, the Collins becomes the wealthiest and the most prominent family in Maine. The name of the town, Collinsport is named after the family's last name.
The grown up Barnabas (Johnny Depp) is inadvertently a playboy, but when he makes a huge mistake by breaking the heart of his servant, Angelique Bouchard (Eva Green) who's obscurely one powerful witch, everything he loves including his parents is about to perish. Angelique eventually turns Barnabas into a vampire and also incites the town people to turn against him. Barnabas is locked up in a coffin and buried alive for all eternal.
Two centuries later, a group of construction workers accidentally unleashes Barnabas from his coffin. Barnabas who grows insatiable taste for human blood sucks their blood out and returns to his manor which is now resided by his descendants that growingly distant from each other. Apart from that, Barnabas also learns that Collin's fortune and status are now merely histories to the town.
Barnabas vows to help his ruined family business to rise from ashes, but little he knows that his greatest enemy is closing in….
Dark Shadows is a special movie as it feels like the genre of Sherlock Holmes meets Twilight. I think that the hardest part of the making of this film isn't the process to infuse the eeriness out of the dark gothic backdrop and hues but the comedy elements instead. There are some hysterically funny scenes in this one, particularly Barnabas's dramatic response (without overdoing his acting crafts) when his first encounters with so-called demonic possession which are in fact, the technologies from 70's era. However, the only scene that slightly holds me back a little is the scene of the invisible face reflection from the mirror of which Barnabas facing when brushing his teeth(Barnabas is technically a vampire, not a phantom) For Angelique's witchcraft practice, I guess it would be better to add in the props such as amulet which is passed on from generations before casting her spell.
Rest things assure, in casting, I believe no one can portray the best of Barnabas but Johnny Depp. He is eccentrically dramatic but charming and knows how to make the entrance each camera rolls on the scenes. On the other hand, the vengeful witch, Angelique played by Eva Green, you might be deceived with her beautiful brunette hairdo in the beginning but soon when she raises the hell, you'll know that she is the last person you should mess up with.
Script-lines at some points hysterically ludicrous in a good way particularly some scenes that reflect Barnabas's lost in translation between old terms and new terms (eg: when one of his descendants, the dysfunctional Carolyn played by Chloë Grace Moretz asking Barnabas whether is he stoned? Barnabas misinterpreted the word 'stoned' as if in literal term, "They're trying to stone me but…"
In a nutshell, this movie is all-worthy for its overall package. Last but not least, roll your eyes with the amazing CGI and special effects setting towards the end of the show!
Saved to