Delicious Egg Salad with Bacon
Sometimes I crave egg salad SO badly. There are a million recipes floating around but I always just throw a bunch of stuff together. My egg salad recipe is nothing revolutionary, but it's yummy. It is also super-fattening, but as long as you eat it in moderation, it's not that bad.
I'm also curious to hear how other people make egg salad...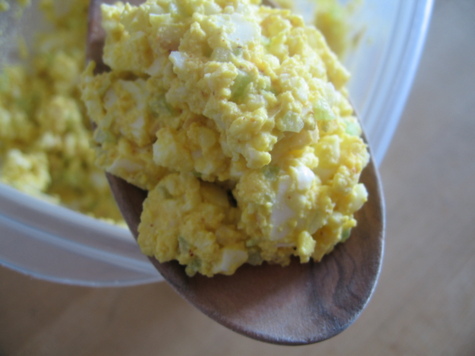 My brain. (BTW, this is a stock photo, not my egg salad)
Delicious Egg Salad with Bacon
Ingredients
1 dozen eggs
6 slices bacon
5 or so tbsp mayonaise (I don't know the exact measurement)
1/2 small red onion, finely chopped
salt and pepper
paprika
Directions
Hard boil your eggs.
While the eggs are cooking, fry up the bacon. Once it is finished and has cooled off a bit, dice it into very small pieces.
Dice the onion.
When the eggs are done cooking, rinse them under cold water for five minutes. Peel them and put them into a large bowl.
Mash the eggs with the back of a fork until they are nice and smooshed into small pieces.
Add the mayo until it is at the desired consistency.
Add salt, pepper, and paprika to taste.
Add onions and bacon, stir until evenly combined.
Chill for at least an hour, then eat! I like mine on wheat toast or inside a wheat pita.
Information
Category

Main Dishes, Sandwiches

Cuisine

North American
Saved to