Delilicious: Sugar Cookie Cut-Outs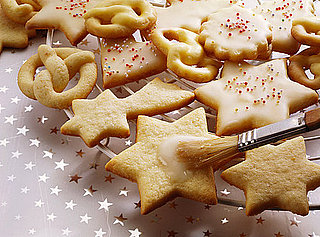 Lisa Barnes, author of Petit Appetit: Eat, Drink, and Be Merry, shares with LilSugar a classic sugar cookie recipe that works for all seasons — though it's especially great for a holiday party, cookie swap or playdate activity. Kids can help dump the measured ingredients into the mixing bowl and turn on and off the electric mixer to help make the dough. Of course the fun really begins with the cookie cutting and icing decorating.
To see how to make this tasty and classic holiday treat with your tots, just .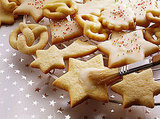 Ingredients

2/3 cup organic unsalted butter, at room temperature
¾ cup sugar
1 teaspoon baking powder
¼ teaspoon salt
1 large cage-free organic egg
1 tablespoon organic milk
1 teaspoon pure vanilla extract
2 cups unbleached all-purpose flour

Directions

In a large mixing bowl, beat butter with an electric mixer on medium speed for 30 seconds. Add sugar, baking powder, and salt and beat until combined. Beat in egg, milk, and vanilla until combined. Beat in the flour, ¼ cup at a time, until all is incorporated.

Cover and chill dough for at least 30 minutes. Preheat oven to 375 degrees F. Line 2 baking sheets with parchment paper and set aside.

On a lightly floured surface, and using a floured rolling pin, roll dough out to 1/8-inch thickness. Cut into desired shapes. Place 1 inch apart on prepared baking sheets.

Bake for 7 to 9 minutes, until edges are firm and bottoms are very lightly browned. Transfer to a wire rack to cool.

Once completely cool these can be frosted with your child's favorite royal or powdered sugar icing. For easy, frosting set out small spreaders and squeeze bottles so frosting ends up on the cookies and not your child, floor, and table. Add sprinkles to wet frosting for even more fun (and mess).

*Makes about 35 (2½-inch) cookies
Saved to