Holiday Cranberry Smoothie
The little cranberry, such an under appreciated fruit. For years cranberry juice has been thought to reduce or eliminate urinary tract infections, but now more recent studies have also linked this tiny tart goodie with antioxidant and anti-inflammatory benefits along with benefits in fighting heart disease and cancer. Reacquaint yourself with cranberries in this yummy Holiday Cranberry Smoothie.
Serving Size: 1, 16 ounces (~300 calories per serving)
Ingredients
* 1 cup fresh or frozen cranberries
* 2 cups water
* 1 1/2 cups almond milk (I like the Blue Diamond brand, Original flavor)
* 1/4 cup cashews (give the raw ones a try)
* 1/8th TEAspoon Stevia
* 4 ice cubes
Directions
For complete directions visit www.greenlemonade.com.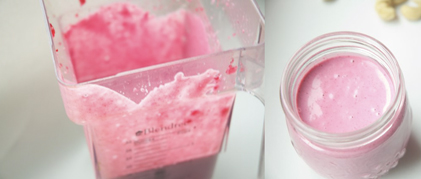 Saved to