DisplaySearch: Tablet PC Shipments to Break 380m Units by 2017
According to the latest Tablet PC market analyst for the first quarter from market research firm DisplaySearch, Tablet PC shipments are estimated to break 380 million units by 2017.
The reasons for why the Tablet PC shipments will increase dramatically are including the steady growth of the mature market and the strong demand in the emerging market. The Tablet PC shipments appear to post over 46% of global shipments by 2017, compared to 36% in 2011.
In the emerging market, Tablet PC market grows rapidly but the main shipments are not from famous brands. Hence the sustainable growth is uncertain, in light of RicharShim, senior analyst of DisplaySearch. However, some famous manufacturers are starting to invest into the market. With their reputation, the market will be driven to be flourishing.
Since the new and old brands are brought in, for example, Aakash enters India market and Dell enters Chinese market, the competition in Tablet PC market is getting fiercer. The penetration rates of Chinese and  Asia-Pacific markets hold the top spot in the emerging market until the price is lowered and sales channel is widen, some countries, such as Brazil, India, Russia garner increasing market share. Moreover, some countries like Turkey, rectify and reform the education system, such as implementing the FATIH project. Consequently, besides personal use, Tablet PC becomes more and more important in many other fields.
The emerging market grows along with the low price competition which will offer important opportunity to those who can provide optimized performance and lower consumption, in addition, cut the price of equipment to be less than USD 100, JimMcGregor, the Chief Technical Analyst of NPDIn-Stat.
As the market develops, the specifications of Tablet PC are getting continuous improvement. The  Tablet PC which has more subtle resolution will feature ideal multimedia experience. DisplaySearch estimates the resolution and pixel will be higher in the coming seasons. The penetration rate of the products with 200-300ppi will reach 30% and 47.5% in 2012 and 2017 as the charts below.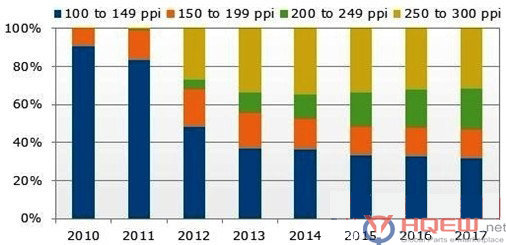 from http://www.hqew.net/events/news-article/2150.html
Saved to