Dooney & Bourke Quilted Spicy
I'm not sure if it's the pattern, the fabric, or the shape of the bag that is pushing me to really like the Quilted Spicy collection from Dooney & Bourke. At this moment I'm leaning towards all three.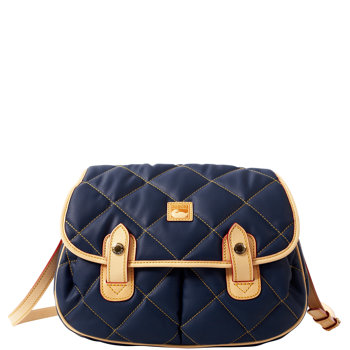 I really like the clean pattern of the Quilted Spicy. Nothing against signature looks, but I'm way past all the Ds, Cs, Fs, and Bs. I just want a simple clean bodies and lines. From a distance the fabric looks to be coated, which typically most of Dooney's fabrics are. The shape of this particular bag, the Messenger Bag, is nostalgic. Well for me at least. I remember wanting a Cabriolet Messenger Bag for days and then couldn't find one. I found a few on ebay, but I couldn't even go down that road. This time I'm not gonna miss out.
With only seven handbag styles available, I hope the Quilted Spicy hangs around for a while. I'd love a spring/summer and fall/winter bag.
Saved to