Dress Your Family in Corduroy and Denim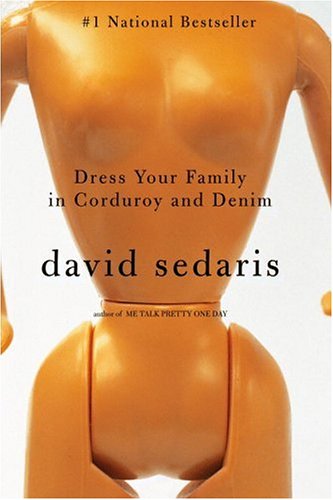 I'm not even sure if anyone pops into this group any longer, but I figured I'd post anyway!
OK, OK.  So, I realize I'm about five years behind in reading this book.  I've read a few other of Sedaris' books and I'm never clamoring to read another, but I never don't want to read another, either.  So, when my mom received this one as a Christmas gift and finished it pretty quickly, I snatched it up, thinking it would be a good choice to read on my short bus rides to and from work.
And, it was perfect for that purpose.  Sedaris' stories are easily digestable, witty, and fun to read.  But, as always, the collection of short stories wasn't a book I couldn't put down; it didn't leave me wanting more.  Additionally, I found some stories more intriguing or more colorfully told than others.  Sedaris' voice is certainly unique and well-crafted.  Sometimes he comes off as jovial and fun; sometimes he seems slightly superior.  Overall, I'd recommend this book, but I wouldn't strongly recommend it.
More background on the book (since I realize I haven't really told you anything about it other than my opinion):  The book is collection of short stories detailing Sedaris' life growing up in a somewhat large, middle-class family of Greek descent.  The stories follow him from childhood, to young adulthood, to his current (at the time of publication) life, living with this partner in France.
I can't pinpoint why, but I found the stories that took place during his childhood to be the most witty.  I think it's because in those stories I feel he was most easily able to take the common, banal qualities of suburban middle class life and make them funny; through laughing at his family in those stories, I could laugh at my own.  Our families aren't all that similar, but these stories felt relateable to me.
Other than letting you all know about the book, I wanted to see if anyone else has read any of Sedaris' work.  I've read Holidays on Ice, Me Talk Pretty One Day, and now, Dress Your Family in Corduroy and Demin (obviously, since I just wrote about it).  If you've read anything he's written, how did you feel about it?
Saved to