Duped! Spot the Difference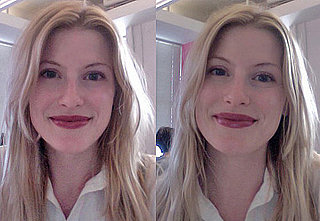 I recently found a nice dupe and I wanted to share it with you all. After trying on two nearly identical lip colors, I noticed that the only big difference between the products was that the one on the left costs $19 less than the one on the right. Psst: I actually like the feel of the cheaper one much better. To find out what they are and see how the two compare, just
The pricier shade is MAC Pro Longwear Lipcolor in Sappho ($21). I'd tested it earlier and liked the color and gloss, but wasn't so much a fan of the way it dried my lips out and the uneven way it faded. It did last a long time, but it definitely didn't stand up well to drinking or eating, and it made lines I don't normally notice in my lips stand out even more.
Then I tried on Avon Glazewear in Cherry Liqueur ($2) and noticed how similar in color it was to MAC's Sappho. The Avon gloss, unlike the MAC, isn't specifically designed for long wear, although it lasted through the day pretty well. It did fade, but because the formula is moisturizing, it looked like a pretty, natural stain. So there you have it — same gorgeous color, but your lips stay moist and you get to keep some of your money.
Have a favorite lookalike to share? It's time to hit up the Beauty Dupes group in the BellaSugar Community. Your post just might be featured right here on our site.
Saved to