Easy Canned Bean Salad
Nothing against bean salads, but I really don't find them appealing. So I certainly surprised myself with this one! The recipe is very simple yet very yummy! The pan roasted carrots and fresh dill take all the attention away from the canned beans, to my surprise. This is a great dish for any picnic and will work great for work lunches.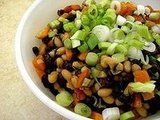 Ingredients
3 cups chopped carrots
1 clove of garlic
1 can of white beans
1 can of black beans
1/4 cup chopped dill
salt & pepper to taste
for the vinaigrette
1/4 cup good olive oil
juice of half a lemon
2 shallots diced
salt & pepper to taste
Directions
Over medium heat, in a large fry pan, heat up some cooking oil ( I prefer Spectrum Canola Oil). Add the diced garlic and carrots. Saute carrots and garlic until the carrots turn brown and begin to caramelize. It should smell delicious!
In a medium bowl throw in the beans and d
ill. Lightly toss. When carrots are done roasting add to the beans, add the dill. Lightly toss once more.
In a small bowl whisk together all of the vinaigrette ingredients. Take a taste to test seasoning. You may need to add more salt/pepper. Lightly toss into the bean salad.
Saved to