Easy, Creamy Pasta Salad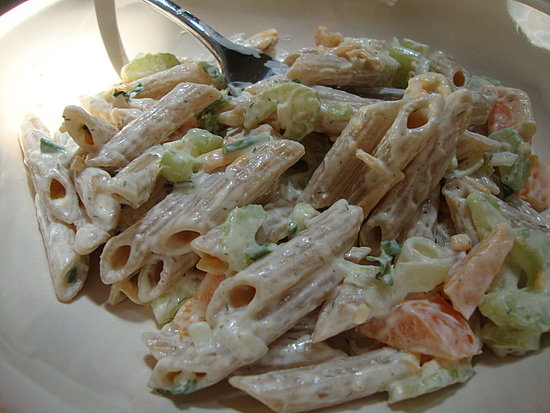 Like the title says, this pasta salad is easy and creamy, but also packed full of flavors. With summer quickly approaching, there are so many options for fresh veggies that would be perfect to add like cherry tomatoes and avocados.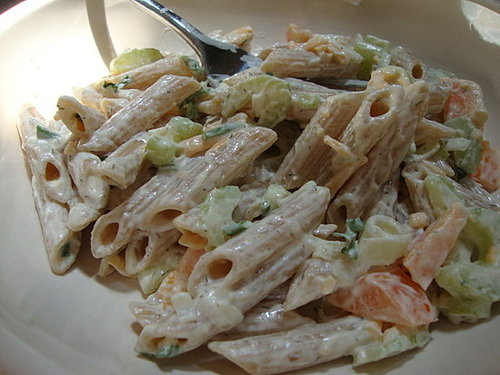 Original recipe
Easy, Creamy Pasta Salad
Ingredients
14oz pasta (I used whole wheat penne)
3 large green onion, chopped
1 bell pepper, diced (use any variety–I used orange, but a red one would be great for color and presentation)
2 stalks celery, sliced
1/2 C fresh parsley, chopped
1 Tbs fresh chives, chopped
1/4 tsp dill
1/2 C vegan cheddar, diced or shredded
2/3 C Tofutti sour cream
1/3 C Veganaise
1 Tbs spicy brown mustard
1/4 tsp ground white pepper
Salt and pepper, to taste
Directions
Cook pasta according to package instructions, drain and rinse with cold water. Meanwhile, combine green onion, bell pepper, celery, parsley, and chives in a small bowl. In a large bowl (large enough to hold everything and serve in) combine sour cream, Veganaise, mustard, dill, white pepper, vegan cheese, salt, and pepper. Pour in drained pasta and veggies and stir to combine–it's that easy! Cover tightly and store in the refrigerator. Enjoy!
Information
Category

Salads, Pasta
Saved to