Easy, elegant onion tart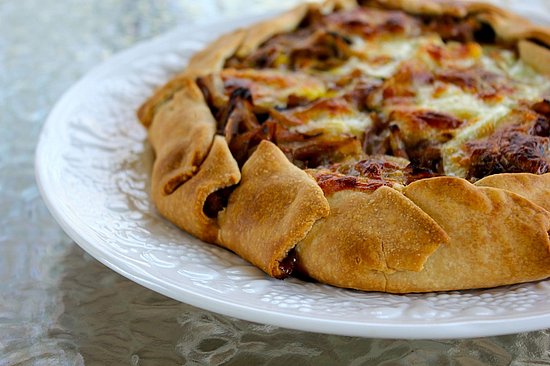 This recipe is easy, elegant and earthy. It's perfect for when you want something tasty from your pantry since the ingredients are quite simple.
It's so good! Perfect with a simple salad.
Get started!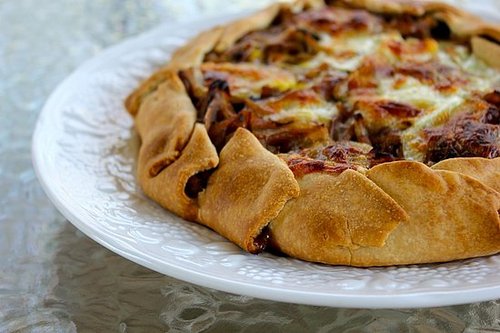 Ingredients
* 1 tablespoon olive oil
* 2 1/2 pounds onion, sliced
* 2 tablespoons chopped fresh thyme
* 3/4 teaspoon kosher salt
* 1/4 teaspoon black pepper
* 1/2 (14.1-ounce) package refrigerated pie dough (such as Pillsbury)
* 1/4 cup (1 ounce) crumbled reduced-fat feta cheese
* 1/4 cup (1 ounce) shredded reduced-fat Swiss cheese (I used Mozzarella because it's what I had)
* 1 large egg, lightly beaten
Directions
Preparation
1. Preheat oven to 425°.
2. Heat oil in a skillet over medium-high heat. Add onion, thyme, salt, and pepper; cook 20 minutes, stirring occasionally.
It's a lot of onions!  Using a mandoline made slicing this many onions go very quickly.  Otherwise, it might take you awhile.
They are getting steamy!
3. Roll dough out on a parchment paper-lined baking sheet. Sprinkle feta cheese in center, leaving a 1 1/2-inch border; top with onion.
Sprinkle with Swiss cheese. Fold piecrust border up and over onion mixture, pleating as you go, leaving a 6-inch-wide opening. Combine egg and 2 tablespoons water; brush over dough. Bake at 425° for 25 minutes or until golden. Cool for 10 minutes.
DEVOUR!!!
Information
Category

Other, Appetizers
Saved to