Empanadas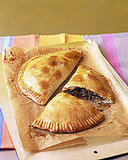 Ingredients
For the filling:
2 pounds ground pork or beef
2 medium onions, finely diced
2 jalapeno chiles, minced (ribs and seeds removed for less heat, if desired)
1/2 teaspoon chili powder
2 cans (14.5 ounces each) tomatoes, diced
Coarse salt and ground pepper
1 cup fresh cilantro, chopped
For the dough
4 cups all-purpose flour, plus more for dusting
2 teaspoons baking powder
2 teaspoons salt
1/2 cup (1 stick) cold butter, cut into small pieces
1 cup cold water
1 large egg, lightly beaten with 1 tablespoon water (do not beat until ready to bake)
Directions
Make the filling: In a 12-inch skillet over medium-high, cook meat until no longer pink, breaking it up into small pieces, 5 to 7 minutes.
Add onion and jalapenos; cook until soft, 5 minutes. Stir in chili powder and tomatoes. Cook over medium until mixture has thickened, 12 to 15 minutes. Season with salt and pepper. Fold in cilantro. Let cool.
Make the dough: In a bowl, combine flour, baking powder, and salt. Using your fingers, cut in butter until mixture is crumbly. Add just enough cold water so dough comes together.
Form empanadas: Turn out dough onto a lightly floured work surface, and divide in half. Knead each half 2 or 3 times to form smooth balls. Cut each ball into four equal pieces. Cover with plastic; let stand until slightly risen, 20 minutes. Shape into balls.
On floured surface, roll out each piece of dough into an 8-inch round. Divide filling evenly among rounds, spreading it over half of each and leaving a 1/2-inch border.
Brush border of bottom halves with water; fold top halves over filling to enclose completely. Press edges to seal with your fingertips, then crimp firmly with a fork. If desired, freeze on a baking sheet until firm, 2 hours. Wrap tightly in plastic; freeze in plastic bags.
To bake fresh or frozen empanadas, preheat oven to 400 degrees. Place on parchment-lined baking sheets. Brush tops with egg wash, avoiding crimped edges. Bake until golden brown, rotating sheets halfway through, 30 to 40 minutes.
Serves 8.
Saved to