Whole Roasted Endives With Pear, Arugula, and Walnut Salad
Though the yield is four side salads, we added sliced roasted chicken breast on top and served this as two entree salads.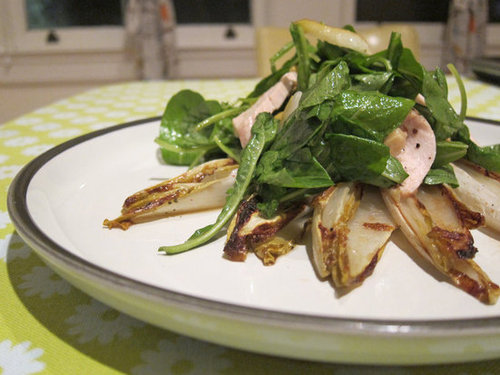 Whole Roasted Endives With Pear, Arugula, and Walnut Salad
Ingredients
1 cup apple cider
1 teaspoon sugar
2 whole cloves
1 (2-inch) cinnamon stick
1 small bay leaf
1 teaspoon olive oil
4 heads Belgian endive, halved lengthwise
3/8 teaspoon salt, divided
1/2 teaspoon freshly ground black pepper, divided
1 tablespoon fresh lemon juice
1 tablespoon toasted walnut oil or olive oil
4 cups arugula
1/4 cup chopped walnuts
1 large ripe Bosc pear, cored and thinly sliced
Directions
Preheat oven to 450°.
Combine first 5 ingredients in a small saucepan; bring to a boil. Cook until reduced to 1/3 cup (about 20 minutes). Strain cider mixture through a sieve into a bowl; discard solids.
3. Brush olive oil on a baking sheet; arrange endive halves, cut side down, on prepared pan. Brush 2 tablespoons cider mixture over endive; sprinkle with 1/8 teaspoon salt and 1/4 teaspoon pepper. Bake at 450° for 10 minutes. Remove from oven; turn endive halves over. Brush cut sides with 2 tablespoons cider mixture.
Preheat broiler.
5. Broil endive 4 minutes or until edges begin to brown.
6. Combine remaining 1/4 teaspoon salt, remaining 1/4 teaspoon pepper, remaining cider mixture, lemon juice, and walnut oil in a large bowl, stirring with a whisk. Add arugula, walnuts, and pear, tossing to coat. Arrange 2 endive halves on each of 4 salad plates, and top each serving with 1 1/2 cups arugula mixture.
Information
Category

Vegetables, Salads
Saved to