Famous Pork Chops
Although this is a pretty basic pork chop recipe, the garlic salt and crackers add something so yummy to it. By far the best pork chops EVER.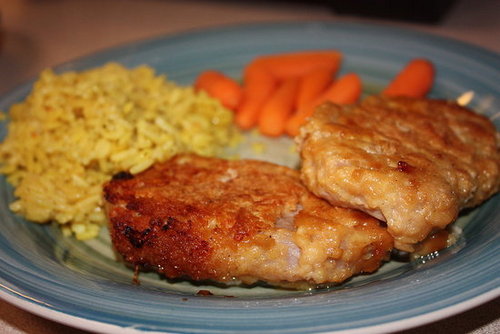 http://allrecipes.com/Recipe/Famous-Pork-Chops/Detail.aspx
Famous Pork Chops
Ingredients
* 1 cup crushed butter crackers
* garlic salt to taste
* ground black pepper to taste
* 3 eggs, beaten
* 4 pork chops
* 1/2 cup butter
Directions
1. Preheat oven to 375 degrees F (190 degrees C).
2. In a shallow bowl combine crushed crackers, garlic salt and pepper; mix well. In a separate bowl beat eggs.
3. Dip your pork chops in the egg batter and then in the cracker mixture. Place the pork chops in a casserole dish. Place chunks of the butter around the pork chops. Cover and bake for 45 minutes.
It doesn't specify what type of chops to use, I had boneless and I feel the cook time is a little long for boneless. Next time I probably shorten the cooktime.
Information
Category

Main Dishes, Pork
Saved to