Farmer's Market Myths
Crushing some of the myths surrounding farmer's markets...
Farmer's markets are becoming more and more popular. However, there still seems to be some stigmas surrounding them that discourage people from buying their produce and other foods there. Although not all farmer's markets are created equal, I would like to dispel some of the common myths surrounding farmer's markets because they simply are not true.
MYTH 1. Farmer's markets are not open during convenient times, like in the evening or during my lunch break. Not true! Now that summer is in full swing, a lot of farmer's markets have extended hours and are open until dusk. Double-check the times of your local farmer's market because they tend to change during summertime. Additionally, if you can't make it every week, ask your neighbors if they go, and if so, if they can pick up some essentials for you. Also, I have found several farmer's markets in San Diego that are open for lunch too! Not only can you purchase your week's worth of produce but vendors often sell tasty snacks and entrees.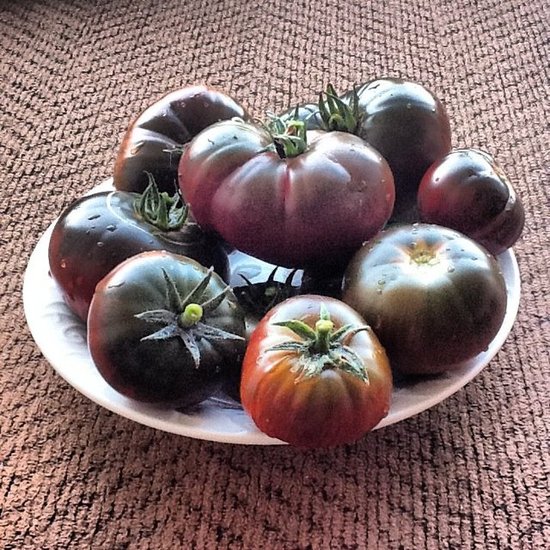 (Delicious Black Krim heirloom tomatoes from the local farmer's market)
MYTH 2. Buying food at the farmer's market is more expensive than buying food at the grocery store. Not true! If you buy food that is in season at the farmer's market, it is comparable, if not cheaper than grocery store prices. Seasonal organic food is usually lower priced than the grocery store as well! Also, depending on how far away you live from the grocery store, often it's more convenient to go to the farmer's market, saving you money on gas. (Maybe there is one within walking distance of your home!?!) The price of produce is going up nationwide because of the drought currently being experienced across the US. Food prices everywhere are slowly creeping up. By building rapport with local farmers at farmer's markets you gain the opportunity to not only understand where your food comes from but to understand the economics of seasonal farming in your area. Try haggling with farmers when you're buying several items from the same stand. Farmers appreciate repeat customers and will be more likely to extend discounts or throw in a few extras to customers who, week after week, purchase food from them. Additionally, if you're on a tight budget, ask about any "damaged" vegetables (in appearance-not taste) that they will sell at a discounted price. 
For more myth busting about farmer's markets and great tips for shoppers, check out my blog:http://youarewhereyoueat.tumblr.com/
Saved to