Forever… Twilight (Breaking Dawn Part 2) – an epic finale with the sharpest teeth ever!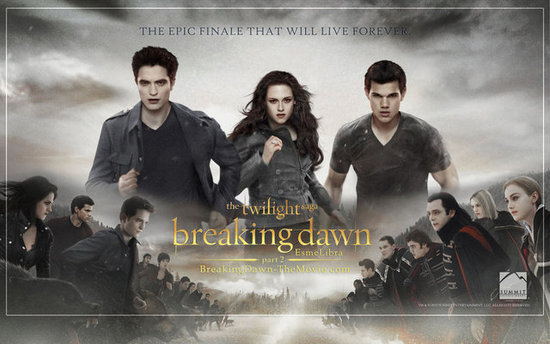 E-Value: 9.5/10
Plot: 9/10
Acting: Kristen Stewart & Robert Pattinson(9/10), Taylor Lautner & Mackenzie Foy (8.5/10), Ashley Greene(8/10), other cast (7.5/10)
The backbones' special point: Stephanie Meyer (the founder) 10/10, Bill Condon (the director) 10/10, Melissa Rosenberg (scriptwriter) 9.5/10, Carter Burwell (music composer) 9/10
Synopsis - 'After being resurrected from death, Bella (Stewart) begins her new life as a vampire and mother to their daughter, Renesmee (Mackenzie Foy). But when Irina, a member of the Denali coven, misperceives Renesmee as an immortal child (a human infant who has been bitten and transformed into a vampire), Irina breaks out the news to Volturi . The dismayed Volturi soon wages war to the Cullens for their betrayal. In the final attempt for survival, the Cullens begin to gather witnesses from the Denali, the Amazonian, the Egyptian, the Irish and Romanian Covens, with European and American nomads and came along their uninvited cross allies. With the aid from the wolves pack as well, the Cullens stands to prove their innocence and to protect their loved ones, once and for all….'
Remember the old phrase 'Save the best for last'? Well this one is pretty much synonymous to it. As for a start, I find it is so refreshing to kick off the film with Bella's evolution and her little adjustments after being empowered with some special abilities.
There is a medieval gothic history line at one point of the story that associated with the reason behind rules set by Volturi to forbid the existence of immortal child, a very good platform for clarity.
The fifteen minutes final battle sequence is literally a jaw dropper this time… ("don't forget, it includes numerous characters thrown into one set at larger scale, not easy task in my book" - Such huge challenge but the scriptwriter, Melissa Rosenberg didn't drop it at all, not even a little bit. Therefore, she deserved a credit for her work. The epic finale ventures beyond traditional genre as it contains good kick of horror/suspense gores especially the final battle and not to mention, an exceptionally masterpiece twist of end (well this one, for those prefer element of surprise will be pleased)
The movie churns out with some great performances, Stewart makes the best example, she 'the who' previously been labeled by critics as insipid vibe literally steals the thunder this time. Her evolutionary character testifies her talent and versatility.
Honestly it has been a while after the first film the palpable chemistry in between Edward and Bella dissipated from my feeling, I feel it back in this finale, totally… and I can't be thankful enough to Bill Condon to surprise twihards with such his super rich imaginations!
The soundtrack of Twilight Overture is an acquired taste added euphoric and classy taste to the entry. While "A Thousand Years, Pt. 2" Christina Perri (feat. Steve Kazee) infused to the closure part is such a perfect choice as it brings on the reminiscence of moments Edward together with Bella.
In a nutshell, Twilight Breaking Dawn Part 2 is an epic finale that surely has its teeth sharper than vampires and werewolves.
Saved to