Fourth of July: Giada De Laurentiis Recipe Idea.....Couscous with Watermelon, Watercress, and Feta Cheese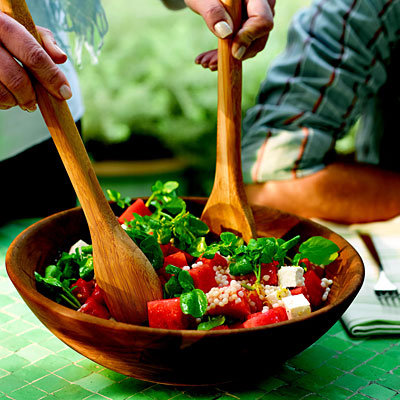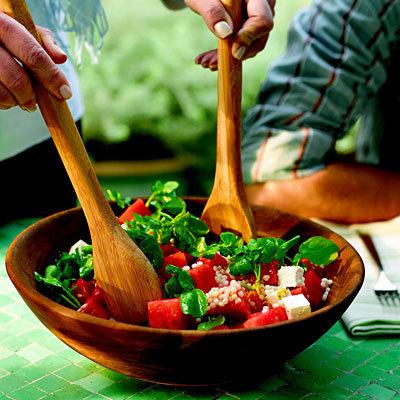 www.instyle.com
Fourth of July: Giada De Laurentiis Recipe Idea.....Couscous with Watermelon, Watercress, and Feta Cheese
Ingredients
•Kosher salt and freshly ground black pepper
•1 cup Israeli couscous
•Grated zest and juice of 2 lemons
•1/4 cup extra-virgin olive oil
•2 tablespoons honey
•1 (4-pound) piece watermelon, rind removed, flesh cut into 1/2-inch cubes
•2 (4-ounce) blocks feta cheese, cut into 1/2-inch cubes
•2 packed cups (2 ounces) watercress or arugula
Directions
1. In a medium saucepan, bring 3 cups of water and 1 teaspoon salt to a boil over medium- high heat. Stir in the couscous and reduce the heat so that the mixture simmers. Cover the pan and cook for 8 to 10 minutes, until the couscous is tender. Drain and set aside to cool for 15 minutes.
2. In a salad bowl, whisk together the lemon zest, lemon juice, olive oil, honey, 1 teaspoon salt, and 1/2 teaspoon pepper. Add the cooled couscous, watermelon, feta, and watercress. Gently toss until all the ingredients are combined. Season to taste with salt and pepper.
Serve immediately. Serves 4.
Reprinted from the book Weeknights with Giada by Giada De Laurentiis. Copyright © 2012 by Giada De Laurentiis. Photographs copyright © by Amy Neunsinger. Published by Clarkson Potter, a division of Random House, Inc.
Information
Category

Cheese, Salads

Cuisine

North American
Saved to