Get fit for 2010: Once a chubster, always... NO, wait! No more chubby!
A lot of women say that they'd love to get back to the size they were at 21, 16, whatever.  Well, I'm 22 now, and I haven't been a size 6 since I was 10.  I remember squeezing into size 11 shorts as a middle schooler, picking baggy jeans to cover my hips as a 15 year old, and wearing big t-shirt after big t-shirt for the rest of my teenage years.  Now I'm in college, and I fluctuate between a 12 and a 14, and I'm lucky enough to have a curvy friend who knows how to dress to flatter a bigger body.  But I'm sick of cardigans! I want to wear a tank top this summer--something I haven't done since my age was in single digits.  So although I'm more comfortable with my curves now, I want to tone up.  Since I've always had meat on my bones, I know it isn't in the cards for me to be a size 2.  Still, I know it isn't healthy to carry 190 pounds on my 5'4" frame, even if people insist I don't LOOK like I weigh over 160.  Hey, if I weigh 190 now, and look like I weigh 160, how great will I look if I actually do weigh 160?  Plus, since my dad is diabetic, if I don't make some serious changes in my life, I will continue to be at high risk.  30 pounds is something I can get rid of.  Diabetes is not.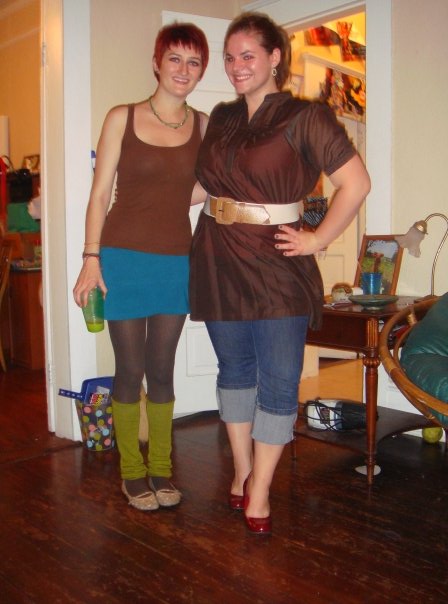 I'm on the right (haha, clearly the girl on the left is not a size 14!).
Saved to