Goat cheese chicken with sun-dried tomato sauce
I made this last night and it the flavors are amazing!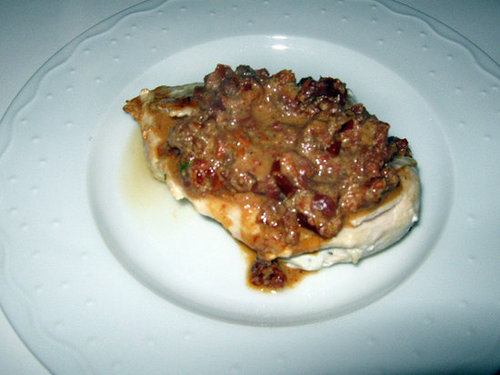 Bethenny Frankel
Goat cheese chicken with sun-dried tomato sauce
Ingredients
6 boneless chicken breasts
1 cup goat cheese
1 tsp. dried Italian herbs (a mixture, or just use oregano, basil, or thyme)
1 Tbsp. minced fresh Italian parsley
Salt and Pepper, to taste
½ C finely chopped sundried tomatoes (packed in oil, drained)
1 C heavy cream (I used almond milk instead)
4 cloves minced garlic
4 T olive oil
Serves 6
Directions
I halved the recipe, as there are just two of us.
1. Cut a slit down the side of each chicken breast, creating a pocket.
2. In a small bowl, combine goat cheese, herbs, and salt and parsley.


Put a spoonful inside each chicken breast pocket. Season both sides of the chicken breasts with salt and pepper.
3. Using sauté pan on med/high heat, layer bottom with olive oil and place chicken breasts facing up in pan until browned. Turn over and brown the other side, then heat until fully cooked (I covered my pan in aluminum foil).


Remove chicken breasts and set aside.
4. Add minced garlic, sun-dried tomatoes and heavy cream (or almond milk, in my case) to the pan. Add salt and pepper, and scrape all bits off the bottom of the pan. Bring to a boil then simmer for 5 minutes.


Spoon sauce over chicken (you may slice to increase portions)

yummy goodness!!
Information
Category

Poultry, Main Dishes
Saved to