Grandma's Ginger Beef Stew Recipe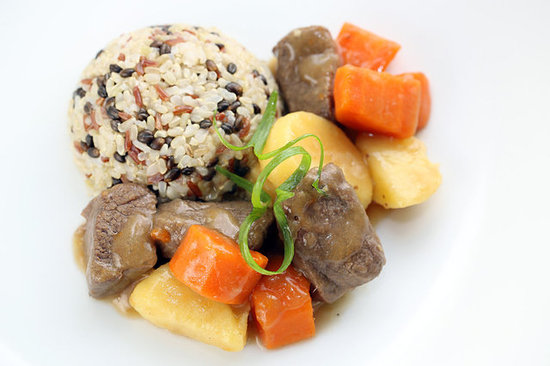 I love comfort food and my grandma, Kam Kwei Yee (I call her Yin Yin) makes a deliciously comforting stew. Her ginger beef stew recipe is one of my favorite dishes, in fact when I was 12 years old, on the day before I got my braces put on my dad asked what was the last meal I wanted to eat and I requested this exact dish!
There is something so satisfying by having all of these hearty ingredients simmered together. Delicious savory beef is flavored with umami soy and oyster sauce, mixed with a little ginger and garlic for enticing aromatics, combined with fork tender carrots, potatoes, onions, all of which soak up the stew sauce.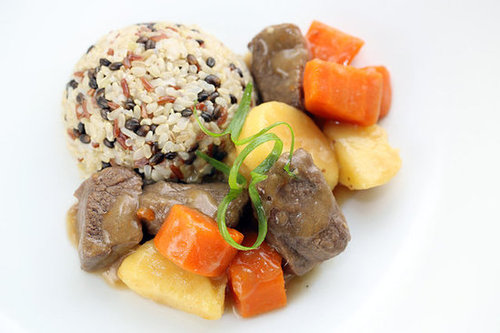 My grandma Kam Kwei Yee
Grandma's Ginger Beef Stew Recipe
Notes
A savory ginger beef stew recipe inspired by my grandma's home cooking. A great comfort food for the winter time!
Ingredients
1 pound Beef, cut into 1 inch cubes
1 tablespoon soy sauce
3 garlic cloves, minced
2 slices of fresh ginger, peeled
4 small gold or white potatoes, peeled, cut into 1 inch pieces
½ yellow onion, cut into 1 inch dice
2 large carrots, peeled, cut into 1 inch pieces
1 tablespoon vegetable oil
1 teaspoon sesame oil
2 cups of beef stock or broth
½ cup water
1 tablespoon oyster sauce (I prefer Lee Kum Kee Brand)
Cornstarch slurry (3 tablespoons cornstarch dissolved in 3 tablespoons cold water)
Salt and pepper, as needed for seasoning
Directions
(Yield: 4 Servings | Prep Time: 20 mins | Cook Time: 40 mins)
Season beef with salt and pepper. Add 1 tablespoon of soy sauce and the minced ginger, stir to combine.
Heat large pot over medium high heat, add 1 tablespoon vegetable oil and 1 teaspoon sesame oil.
Add beef mixture and ginger to the pot, sear meat on all sides. Reduce the heat to medium.
Add 1 tablespoon of oyster sauce to the pan and stir.
Add onions to the pot, stir and cook for two minutes.
Add the potatoes and carrots to the pot.
Add 2 cups of beef stock or broth and half a cup of water, covering the meat and vegetables.
Bring pot to boil then gently simmer until potatoes and carrots are fork tender, about 30 minutes
In a small bowl make the slurry by combining 3 tablespoons of cornstarch 3 tablespoons of cold water.
Increase the heat to medium, allowing the stew to gently boil. Gradually add the slurry, mix the stew and allow the stew to cook and thicken for a few minutes. For a thinner sauce, start by adding half of the slurry, then additional slurry until you reach your desired consistency.
Information
Category

Soups/Stews, Stew

Cuisine

Chinese
Saved to