Greek Lemon Cake
Hello everyone!
Let me just start out by saying Happy 2009 and I hope you had a great holiday with plenty of yummy food. :D
To start off the year I'm posting yet another cake recipe, this one is called Greek Lemon Cake.
Back in my early days here in the sugar network I posted this recipe along with a few others for a member asking for cake recipes containing yogurt. I never actually made it, until last night.
Let me just say... YUM!
It turned out to be very moist with the perfect balance of sweet and sour from the lemons.
This is a great afternoon tea/coffee cake.
The best frostings for this cake is either the Italian Meringue Frosting or the Italian Meringue Buttercream.

Both VERY nice, especially the buttercream. mmmmm :drool: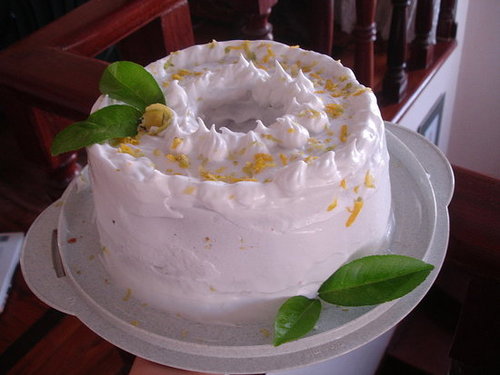 Cake: www.allrecipes.com
Italian Meringue: www.crinellawinery.com
Italian Meringue Buttercream: Martha Stewart

Greek Lemon Cake
Ingredients
3 cups cake flour
1 teaspoon baking soda
1/4 teaspoon salt
6 eggs
2 cups white sugar
1 cup butter, softened
2 teaspoons grated lemon zest (more for garnishing)
2 tablespoons lemon juice
1 cup plain yogurt
Directions
Preheat oven to 350 degrees F (175 degrees C).
Grease one 10 inch tube pan.
Sift the flour, baking soda, and salt together. Set mixture aside.
Separate the eggs. In a large bowl beat the egg whites until soft peaks form. Gradually add 1/2 cup of the sugar, beating until stiff glossy peaks form. Set aside.
Cream butter or margarine, 1 1/2 cups sugar, egg yolks, lemon zest, and lemon juice together until fluffy. Add flour mixture alternately with the yogurt to the egg yolk mixture. Gently fold in the egg whites and pour the batter into the prepared pan.
Bake at 350 degrees F (175 degrees C) for 50 to 60 minutes.
Let cake cool in pan for 10 minutes, then turn out onto a rack to finish cooling and frost. Serves 12.
To make Italian Meringue:
In a small pot over low heat, combine 1 cup sugar and 1/3 cup water. Swirl the pot over the burner to dissolve the sugar completely. Do not stir. Increase the heat and boil to soft-ball stage (235 to 240 degrees). Use a candy thermometer for accuracy. Brush the crystals on the side of the pan down with a pastry brush dipped in cold water as needed.
Using an electric mixer, whip the 5 egg whites on low speed until foamy. Add the cream of tartar, increase the speed to medium, and beat until soft peaks form.
With the mixer running, pour the hot sugar syrup in a thin stream over fluffed egg whites. Beat until the egg whites are stiff and glossy.
To make Italian Meringue Buttercream:
In a small saucepan over medium heat, bring 1 1/4 cups sugar and 1/3 cup water to a boil. Boil until syrup reaches soft-ball stage (238 degrees on a candy thermometer).
In an electric mixer fitted with the whisk attachment, beat 5 egg whites with an electric mixer on low until foamy. Add cream of tartar; beat on medium high until stiff but not dry.
With mixer running, pour syrup down side of bowl into egg whites in a steady stream, and beat on high speed until steam is no longer visible, about 3 minutes. Beat in 3 sticks butter a few pieces at a time. Add 1 tsp vanilla and beat until smooth.
If it looks curdled at any point, keep beating to smooth out.
Information
Category

Desserts, Cake

Cuisine

Greek
Saved to