Grilled Pineapple w/ Vanilla Coconut Ice Cream & Cacao Nibs
It's Day 2! I've been dying to grill some more fruit on my Calphalon grill pan, so I picked up fresh pineapple slices at Trader Joe's on my way home from the gym. I had a pretty frustrating and stressful day of work (typical Monday), so a long cardio workout and homemade dessert were exactly what I needed. This one is perfect for those of you that don't have a lot of time. You can make it in 5 minutes or less and it requires zero preparation.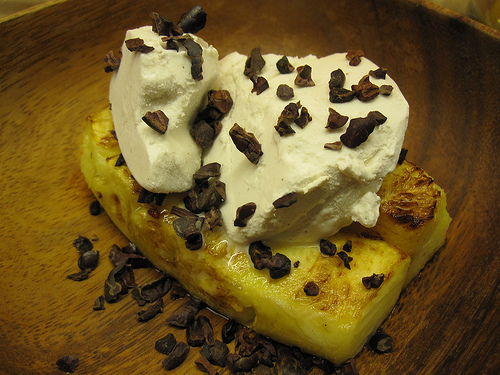 4 long slices of grilled pineapple (about 4-in. long by 1-in. wide)
1 cup coconut milk ice cream, vanilla flavor
1 tbsp. cacao nibs
1 tbsp. coconut oil
To see a very similar dessert I made this summer, check out my Grilled Peaches with Coconut Milk Ice Cream recipe.
Saved to