Grilled Portobellos with Rosemary-Roasted Vegetables
The great thing about portobello mushrooms (besides their great flavor) is that they're so versatile and can be grilled, baked, sauted--you name it. I added balsamic vinegar and burgundy wine to this recipe, but you can certainly leave them out--I just find that both of those go beautifully with mushrooms.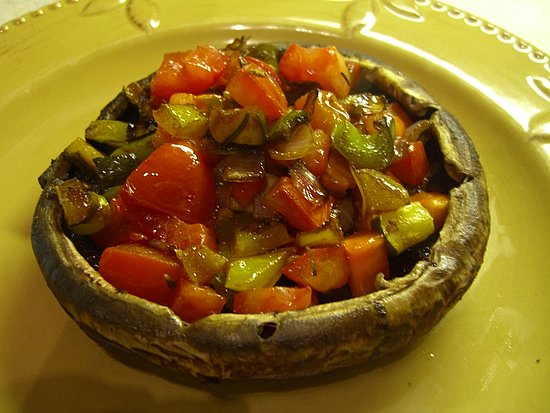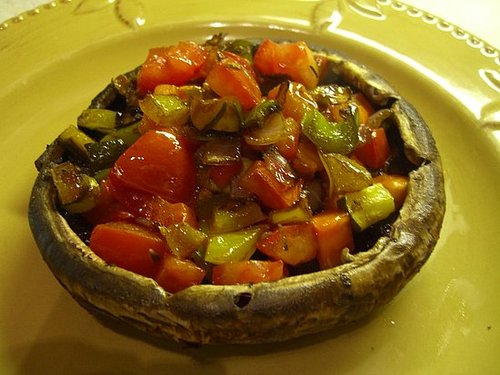 Vegan Planet
Grilled Portobellos with Rosemary-Roasted Vegetables
Ingredients
1 large red onion, chopped
1 large yellow bell pepper, seeded and chopped
1 medium zucchini, chopped (a little more would have been good)
1/3 C olive oil (I used a 1/4 cup + 1-2 Tbs)
2 Tbs coarsely chopped fresh rosemary or other herb leaves (I would increased this to at least 3 Tbs)
Salt and pepper, ground
1 large tomato, chopped
4 large portobello mushrooms, stems removed
1/4C balsamic vinegar (optional)
1/8-1/4C Burgundy wine (optional)
Directions
Preheat oven to 425 and heat your grill (if using).  In a large bowl, combine the onion, bell pepper, zucchini, 1/4 C of olive oil, the rosemary and salt and pepper to taste. (I added the balsamic vinegar here).Toss to coat the veggies with oil, then spread them in a single layer in a rimmed baking sheet. Roast until tender and lightly browned, about 25 mins. (18-20 mins was perfect). Reduce oven temperature to 275. Add the tomatoes to the roasted vegetables, stirring to combine and return to the oven to keep warm. (I just turned the oven off and it stayed plenty warm in the oven for the tomatoes). Brush the mushrooms with the remaining olive oil and grill until tender and lightly charred on the outside, about 5 mins per side. (At this point, seeing as it's in the single digits here in Colorado, I decided not to brave the snow-piled deck to do some bakyard grilling. I opted to lightly saute the 'shrooms in the Burgundy wine). To serve, arrange the portobello caps gill side down and top with the roasted veggies. (I served them gill side up and filled them with the veggies). They were delicious! I'm sure grilling would add a whole new flavor, so that it why I chose the wine to give it a bit more jazz.
I served these with the Tarragon Pasta Salad and together, they make a great meal, especially for the coming spring and summer. But beware, if you're not used to eating that amount of veggies in one sitting (namely, my husband) don't go to a 2 1/2 hour movie afterwards...poor guy. Luckily, veggie gas tends to be less offensive. :) Otherwise, eat up and enjoy!
Information
Category

Other, Main Dishes
Saved to