Breakfast Idea: Yogurt-Filled Cantaloupe
I go crazy for melon this time of year because it's so juicy and refreshing, not to mention filling. I love all melons, but cantaloupe makes an especially delicious treat because it tastes great when combined with other foods. The cantaloupe boat recipe I posted a while back made with cottage cheese and dried cranberries is one of my faves, and if you too are a fan, you'll also like this variation.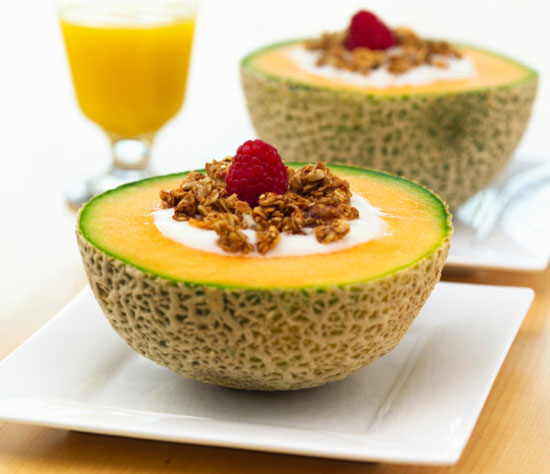 To see how easy it is to whip up this recipe, and see the nutritional info, .
Cut a cantaloupe in half and scoop out the seeds.
Fill the hole with six ounces of nonfat Greek vanilla yogurt.
Sprinkle with 1/4 cup of granola and five fresh raspberries.
Use a spoon to scoop bites right out of the cantaloupe peel. You don't even need to bother with dirtying a dish.
This easy recipe contains:
Do you have a tasty and healthy recipe you want to share? Post it in the Healthy Recipe group so we can give it a try too!
Saved to