Healthy Coconut Banana Bread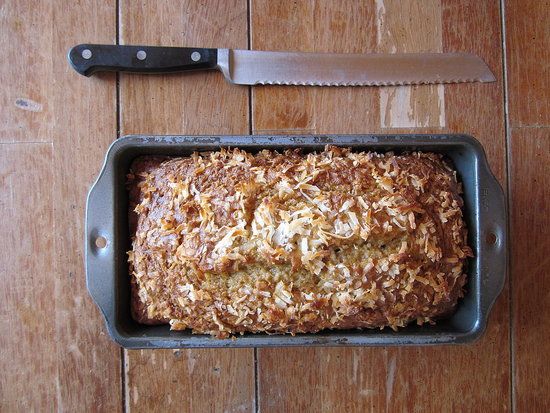 So, you like banana bread right?
And you want something healthy?
But you're sick of the regular banana bread full of calories?
Try this. A twist on the classic.  Perfect for breakfast or dessert. Your pick.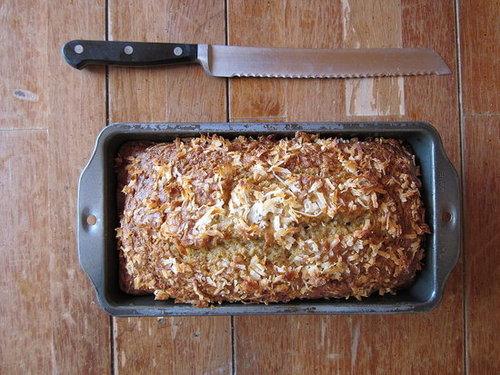 Ingredients
1 ¾ cup all-purpose flour
1 teaspoon baking powder
1 1/4 teaspoon baking soda
3 Large ripe bananas, mashed
½ cup + 2 tablespoons sweetened flaked coconut
½ tablespoon olive oil
1 teaspoon vanilla
½ cup of brown sugar
3 egg whites
2 tablespoons skim milk
¼ cup fat free plain greek yogurt
¼ cup orange juice
Directions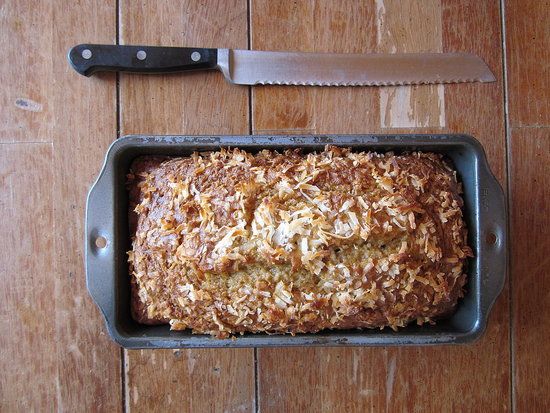 Preheat oven to 350 degrees.
Mix flour, baking powder, baking soda together in mixing bowl.
In separate large mixing bowl combine mashed bananas, brown sugar, and vanilla.  Add egg whites and mix together until smooth. Next add oil.  Then, slowly add in flour and combine until moist.
Next add greek yogurt and orange juice.  Depending on the consistency you can add 2 tablespoons of skim milk.  If you like your bread more dense than omit the milk, but if you like it more airy or lighter you can add it.
Lastly add ½ cup of coconut and mix together.
Pour into greased 9×5 inch loaf pan. Sprinkle 2 tablespoons of coconut on top.
Bake for 50-60 minutes or until toothpick comes out clean and the bread is golden brown.
Optional: throw in ½ cup of walnuts to batter to help keep you satisfied all morning
Another option: Substitute ½ cup of regular flour with whole wheat flour
Make 16 slices.
About 115 calories per slice
Information
Category

Breads, Bread
Saved to