Healthy German Chocolate Brownies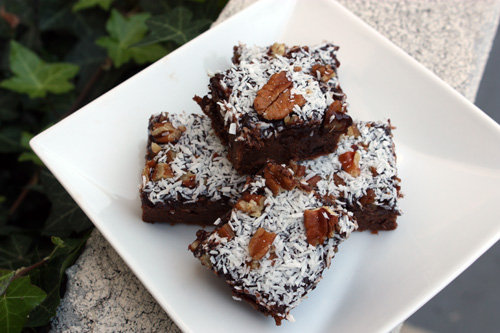 Gooey chocolatel-y, dense brownies topped with our own protein powder frosting concoction, pecans, and shredded coconut.
This decadent dessert will satisfy your chocolate cravings, and you can feel extra good about it too because there's no added sugar or oil. We used agave nectar as the sweetener and Greek yogurt and pumpkin puree instead of oil and eggs.
On a side note, did you know that German chocolate cake isn't really German? It owes its name to American Sam German, who developed a brand of dark baking chocolate used for the cake.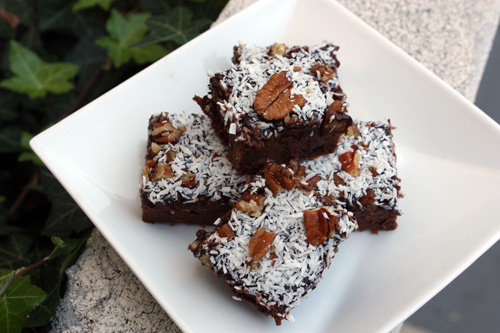 Healthy German Chocolate Brownies
Ingredients
Brownie Cake Ingredients
3/4 cup whole wheat flour
2 tbsp unsweetened cocoa powder
1/2 tsp baking powder
1/2 tsp salt
1 tsp cinnamon
1 cup pumpkin puree
1/2 cup fat-free Greek yogurt
1/2 cup agave nectar
1 tsp vanilla extract
half of a 3 oz dark chocolate bar (70% or higher)*, roughly chopped
cooking spray or coconut oil
Frosting & Topping Ingredients
3 scoops protein powder, vanilla or chocolate flavored**
2 tbsp unsweetened cocoa powder
2 tbsp natural peanut butter
3 oz water
1/4 cup pecans, roughly chopped
1/2 cup shredded coconut
* We used a 100% dark chocolate bar. It's very rich and bitter but once you mix it with the other ingredients, we think it has the perfect amount of sweetness and dark chocolate decadence… but it might be too much for some people so that's why we recommend 70% or higher.
** Make sure whatever protein powder you use tastes really good. Our current favorite for this recipe is Optimum Nutrition Natural Vanilla or Chocolate.
Directions
Preheat oven to 350 degrees F and lightly oil a 9×9 glass baking dish.
In a medium bowl, sift together whole wheat flour, cocoa, baking powder, salt, and cinnamon.
In a separate bowl, mix together the wet ingredients – pumpkin puree, Greek yogurt, agave nectar, and vanilla extract.
Add wet ingredients to the dry ingredients and mix until incorporated.
Fold in dark chocolate pieces.
Pour into baking dish and spread evenly.
Bake for 25 minutes.
Allow to cool for about 5 minutes and then begin preparing frosting. Don't make the frosting too far ahead of time because it thickens up quickly and gets sticky so you need to make it and put it on the brownies fairly quickly.
In a small bowl, sift protein powder and cocoa together so the cocoa is evenly incorporated and doesn't have any lumps.
Mix together the protein powder and cocoa mixture, peanut butter, and water until thoroughly incorporated. The texture will be need to be like a chocolate sauce so that you can pour it onto the brownies, but not too thin that is runny and watery. However, as mentioned above, it does set up after a few minutes so err on the side of being too thin than too thick (it has to be spreadable).
Pour frosting/sauce over brownies and spread evenly.
Top with chopped pecans and coconut.
Let brownies set up and cool for about 20 minutes before serving (if possible).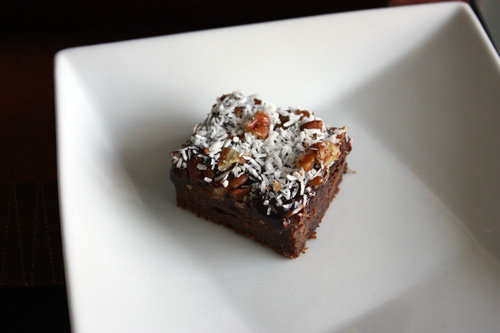 Information
Category

Desserts, Brownies
Saved to