Healthy Recipe: Apple Pear Oatmeal Crisp
It's harvest time for apples and pears, and nothing says Autumn like warm crisp featuring both Fall fruits. Here is a variation of a recipe from RecipeZaar. I substituted a few things like Sucanat for brown sugar, whole wheat flour for all-purpose flour, and Earth Balance margarine in place of butter. The soft, cinnamony fruit and crunchy oat topping are a perfect combination, and it was so delicious that my family polished off the entire crisp within a day.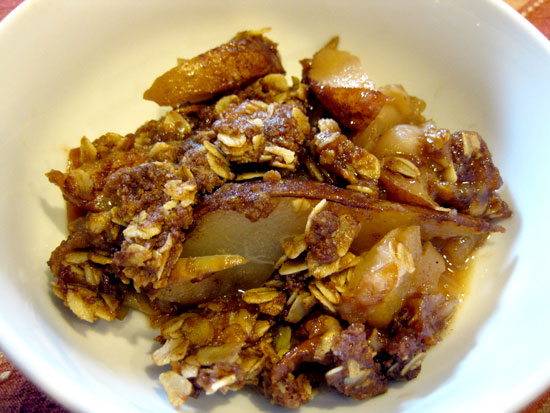 This would make a great dessert for Thanksgiving, because it's a cinch to whip up. To see the recipe .
Adapted from RecipeZaar
Healthy Recipe: Apple Pear Oatmeal Crisp
Ingredients

2 apples, sliced
3 firm pears, sliced
2 tablespoons Sucanat
1 1/2 teaspoons ground cinnamon
1 teaspoon ground nutmeg
1 to 2 tablespoons lemon juice
2/3 cup water

Topping

1 cup oats
1/3 cup whole wheat flour
3/4 cup Sucanat
1 teaspoon cinnamon
1/4 teaspoon salt
6 tablespoons of Earth Balance, melted

Directions
Preheat oven to 375°F.
Remove the cores and slice the unpeeled fruit. Place slices in the bottom of a greased nine-inch dish. Drizzle with lemon juice.
Sprinkle two tablespoons of Sucanat, ground cinnamon, ground nutmeg, and water on the fruit.

In a separate bowl, combine the dry ingredients. Add melted Earth Balance and mix until crumbly.
Spread the crumb mixture evenly on top of the fruit.
Bake for 50 to 60 minutes, so the top is lightly brown and the fruit is bubbly.
Serve warm or cold with vanilla ice cream, vanilla yogurt, or enjoy by itself.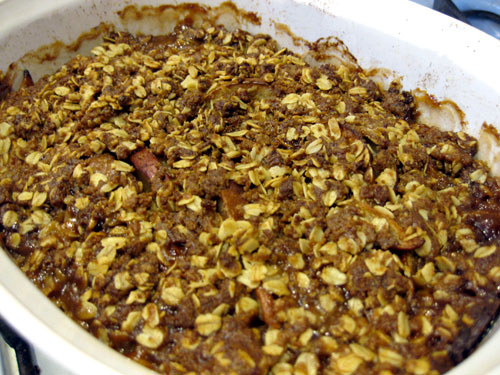 Here's the nutritional info for this Apple Pear Oatmeal Crisp. RecipeZaar suggests that a serving size is one-sixth of the crisp, but I found one-eighth of the crisp to be a more appropriate portion.
| | |
| --- | --- |
| Serving Size | 1/8 of the crisp |
| Calories | 330 |
| Total Fat | 5.3 g |
| Saturated Fat | 1.5 g |
| Cholesterol | 0 mg |
| Sodium | 165 mg |
| Carbs | 51.7 g |
| Fiber | 4.5 g |
| Sugar | 30.6 g |
| Protein | 4.2 g |
If you have a healthy recipe to share, please post it in the Healthy Recipe group.
Saved to