Easy Low-cal, Low-fat Sugar Cookies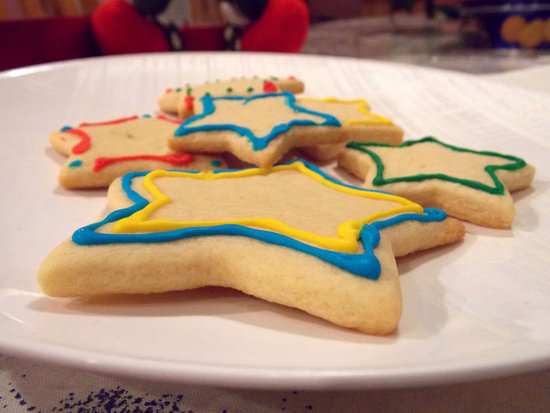 Here's a rule of thumb for you.
You cannot have Christmas without cookies. And not just any cookies. Homemade cookies. The kind that are made from scratch.
Even though this Christmas is over, there's no reason why we can't still talk about Christmas cookies. (Or eat them. Eating them is definitely still game.) And even if you don't celebrate Christmas… Well, every holiday (even any regular day) should never be without cookies. Especially these low-cal, low-fat sugar cookies.
I adapted this recipe from Chocolate Covered Katie's "Healthy Sugar Cookie" recipe, simply swapping in regular butter for vegan butter. Now, I'm sure they taste wonderful when made with non-dairy butter too, but with the way these turned out it's hard for me to believe that there's any way they could taste this good without it.
The dough, which is super easy to make by the way, ended up yielding soft, fluffy, buttery sugar cookies that are just the right amount of sweet. And not only will these low-cal cookies help you avoid going overboard on calories and sugar, but you'll also love them for the fact that they're made with only a few easy ingredients and can be whipped up in just about 25 minutes or so.
Instant gratification! That's what the season is all about right?
Kidding! Sharing is caring. And we all know cookies make great gifts. Share these with your friends and family. The will thank you. I know that for a fact.
(Click through for recipe.)
Read More
Saved to