Heart Healthy Omega Granola
This crunchy nut based granola is high in omega-3 and omega-6 fatty acids, making it a great addition to a heart healthy or nutrient dense lifestyle.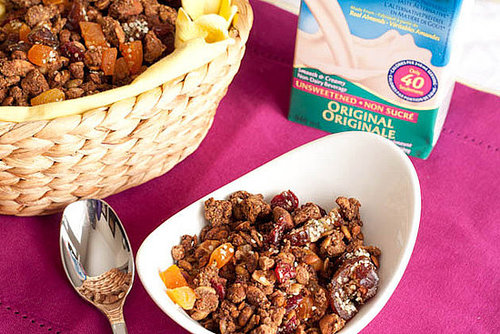 Ingredients
* 1 cup raw walnuts
* 1 cup raw almonds
* 1 cup raw pepitas [pumpkin seed]
* 1/2 cup almond flour
* 1/2 cup ground flax seed
* 1/4 cup coconut sugar [aka palm sugar] – brown sugar would work too
* 2 tsp ground cinnamon
* 1/8 tsp nutmeg
* 1/4 tsp Himalayan rock salt
* 1/4 cup apple juice
* 2 tbsp chia seed
* 1 tbsp pure vanilla extract
* 2 tbsp coconut oil, melted
* 10 dried apricots, cut into bite-sized pieces
* 1/2 cup dried cranberries
* 8 honey dates, pitted and cut into bite-sized pieces
* 1/4 cup hemp seeds
Directions
Combine walnuts, almonds, and pepitas in a large glass container. Cover with 2 inches of filtered water and allow to soak overnight.
The next day, place soaked mixture in a strainer, rinse, and shake to dry. Spread on a cutting board and chop the nuts slightly.
Preheat oven to 300F and prepare a cookie sheet with parchment paper or a silicon baking mat.
Combine wet ingredients in a small bowl and set aside.
Combine remaining dry ingredients in a large bowl and whisk to combine. Add soaked nuts and seeds, making sure to coat each piece in the flour mixture.
Add wet to dry and mix until fully incorporated.
Evenly distribute the mixture onto the prepared cookie sheet.
Bake for 55-65 minutes, rotating the mix every 15 minutes. As soon as the mixture is dry, remove from oven to prevent from burning. It will burn quick! So be careful.
Allow granola to cool before mixing in your add-ins.
Information
Category

Breakfast/Brunch, Granola