Herbed Chicken Piccata
I wanted to test out the recipe feature...
We make this from time to time, it's easy, yummy, and low-fat. We usually serve whole-wheat couscous and green beans on the side, or else over whole-wheat pasta
Sorry I don't have an original photo - I found a stock photo that looks fairly accurate.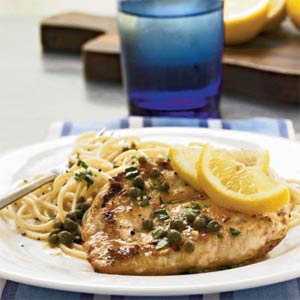 Adapted from an unofficial Weight Watchers recipe - unfortunately, I can't remember the name of the website but will post if my brain starts working again.
Herbed Chicken Piccata
Ingredients
2 tablespoons dry whole wheat bread crumbs
1 teaspoon dried basil
1 teaspoon grated lemon rind
1/8 teaspoon pepper
2 cloves garlic mined
4 boned and skinned chicken breast halves
Cooking spray
1 teaspoon margarine
8 slices lemon (thin slices)
1/4 cup low-salt chicken broth
2 tablespoons fresh parsley chopped
2 tablespoons lemon juice
3 tablespoons capers (optional)
Directions
Combine first 5 ingredients in a shallow dish; set aside.
Place chicken between 2 sheets of heavy-duty plastic wrap; flatten to 1/4 inch thickness, using a meat mallet or rolling pin. Lightly coat both sides of chicken with cooking spray; dredge chicken in breadcrumb mixture.
Melt margarine in a large nonstick skillet coated with cooking spray over medium-high heat. Add chicken; cook 4 minutes on each side or until done. Remove chicken from skillet. Set aside; keep warm. Add lemon slices to skillet; saute 30 seconds. Add broth, parsley, and lemon juice. Add capers, if using; cook 1 minute. Spoon sauce over chicken. Makes 4 servings.
Information
Category

Poultry, Main Dishes

Cuisine

Italian
Saved to