Homemade Pizza.. Nom nom nom..
I tried out a new pizza recipe tonight and it was pretty good! I added herbs and garlic to the dough which made the crust deee-licious.
Ingredients:
3 cups flour (I used 2.5 cups and a bit extra for kneading)
2 T olive oil
1 package dry yeast
1 tsp salt (I used 3/4 tsp)
1 T sugar
1 cup warm water
My additions: liberal amount of Italian seasoning, bit of extra basil (because I'm out of oregano.. the horror :faint: ) and a couple cloves of minced garlic.
Dissolve yeast into warm water. Stir in olive oil, salt, sugar, garlic, and seasoning. Add in two cups of flour & stir, gradually add in another 1/2 cup and knead till soft & elastic.
The recipe didn't call for letting it sit but I left it for about 15 minutes covered on the stove.
I also brushed a bit of olive oil onto the pan before flattening the crust onto it, and on top of the crust before baking. Bake crust at 375 for 5-10 minutes depending on your oven, add sauce, cheese, and toppings, and bake until crust is golden brown (bottom as well) and cheese is melted.
The top pizza had kalamata olives, onions, peppers, tomatoes, and parm, and the bottom had olives, bacon, and parm :drool: nom nom nom. For the cheese I used a blend of queso blanco and mozzarella.. verrrry good.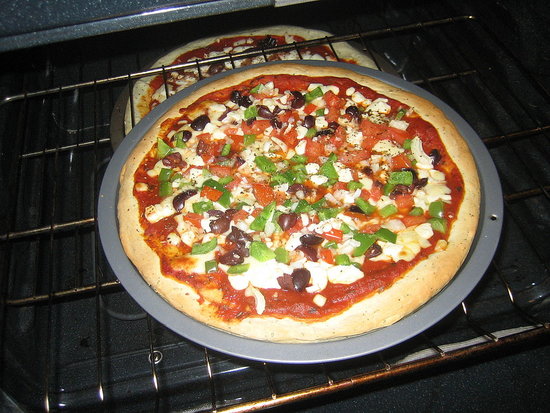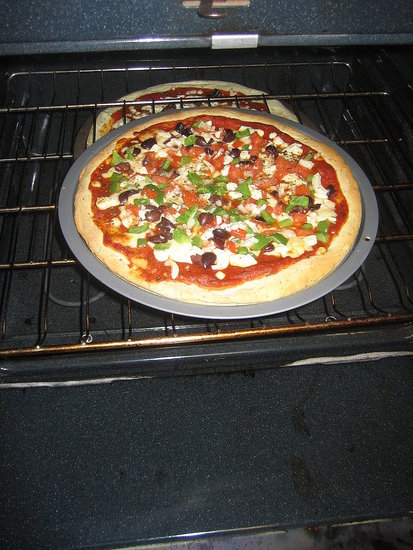 Saved to