Butternut Squash Veggie Pizza
Is it Winter yet? Not really, right? OK good, because I'm still talking about Fall.
Fall and pizza.
Pizza and fall .
These are two of my most favorite things. Which is why this butternut squash topped veggie pizza represents the epitome of so much that I love dearly.
Quick and easy recipes that don't require a lot of work are totally up there on the top of that "Things I Love" list too. And this is by far one of the quickest homemade pizzas I've ever made. So, bonus points for that!
Three of my most favorite things all wrapped up into a super easy, homemade pizza! Well, Ok folks. That's it. We can pack it up and go home now because with this recipe, my life is pretty much complete.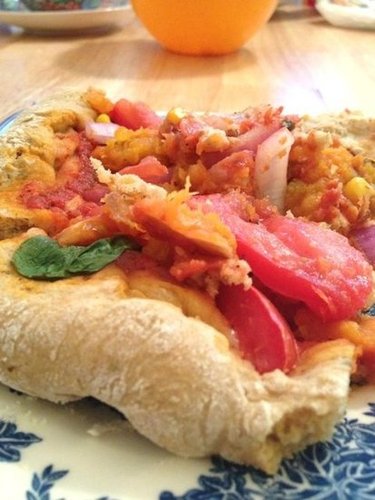 The Hungry Runner
Butternut Squash Veggie Pizza
Ingredients
For the dough -
2 cups whole wheat flour
1 package active dry yeast
3/4 tsp. salt
1 T olive oil
1 tsp. honey
1 cup warm water
dash of oregano
dash of basil
For the Pizza-
For the pizza-
1/2 can (about 16 oz.) of red tomato sauce (I used Classico's Tomato and Basil)
1/4 red onion, sliced (long thing pieces)
1 cup baby spinach leaves
1 cup butternut squash, mashed
1 cup chopped red bell peppers
Directions
To make the dough-
1. In a large bowl, mix together very well the flour, yeast and salt. Sprinkle in a few dashes of the basil and oregano and mix again.
2. Pour in the water, oil, and honey, then mix again until everything is well blended.
3. Cover the dough mixture with a warm cloth and place in a warm spot for about 10 minutes.
4. Sprinkle a small amount of flour onto a lightly greased pizza pan. When dough is ready, place it on the pan, press it down and spread it out into a circular, pizza-like shape. (To form a thicker outer crust, roll the edges.)
To make the pizza-
1. Spread half of the sauce evenly over the rolled out dough.
2. Spread the spinach leaves, red onion slices, and red pepper chunks over the sauce.
3. Spread the reaming sauce over the spinach, onions, and peppers.
4. Place medium-sized spoonfuls of the mashed squash throughout the toppings, spreading them out evenly over the whole pie.
4. Bake at 425 for 15-20 minutes or until crust is golden brown.
Information
Category

Main Dishes, Pizza
Saved to