How Comfortable Are You Being Seen Naked?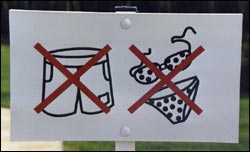 This is is a joint posting from me (Venus1) and my sister, following a conversation over a bottle of wine last night.
It's interesting how even in the same cultures, attitudes to our own bodies are so different.  Personally, my sister and I were brought up in France in a naturist family, aside from our puberty years (long ago now) we were both relaxed about our bodies as a result, although mine is far from perfect.  A group of us still frequents a naturist beach regularly.  We love the freedom feeling.  I could never really get into the logic of getting dressed to go swimming, although I do of course own a bikini, a swimming cossie and several bikini bottoms.
That said, we are aware not everyone feels the same and always take care not to offend others.
What's your attitude to your own naked body?  How do you think your upbringing/culture influenced you?
Saved to