Kebabs Put the Fun in Fruit
I love fruit as is, but I'm always looking for ways to make things more creative — especially since the mister is not as big of a fruitoholic as I'd like. He's much more likely to eat one of my fruit dishes over a plain apple or banana. I'm big into making smoothies and homemade fruity popsicles, and now I'm putting them onto a stick. Fruit kebabs are fun to make, and are huge hits at any party or dinner I've hosted. Something about food on a stick just makes people giddy.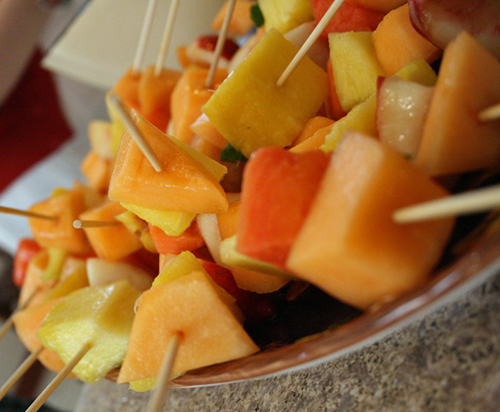 To make your own fruit kebabs, get an assortment of different fruit and cut into bite-size pieces. After that, all that's left is to skewer! You can use standard kebab skewers to do so. I love arranging mine on a plate and serving them with a healthy dip like my homemade maple cinnamon yogurt dip, or peanut butter and honey dip. And, believe it or not, fruit kebabs taste great on the grill too. My favorite fruits to grill are peaches, pineapples, apples, and pears. Bust these out at your next barbecue — they're sure to be a hit!
Source: Flickr User theogeo
Saved to